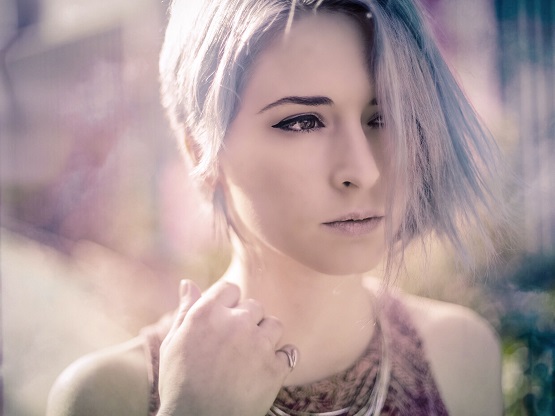 Recently taking the Los Angeles scene by storm with her accomplished live act (playing at the House of Blues, the 626 Golden Streets festival, The Satellite, and many more established venues), Daria Black produces a riveting vein of indie-pop with entrancing vocals, ethereal arrangements, and consuming narratives. We're happy to premiere "Not That Girl." The track begins with lyrics that emphasize the importance of moving forward and championing independence, leading into an excellent "I'm not the girl you used to think you knew," hook around the 50-second mark. A lush bridge occurs near the two-minute mark, with trickling guitars and buzzing synths leading back into the verses and hook.
Daria elaborates more on the track. "I used to work with a producer who took advantage of me both professionally and romantically. Despite how difficult it was at the time, that situation ultimately made me grow and pushed me to instead become my own producer," she says. "A few years later, I wrote "Not That Girl" after seeing him again, because I felt completely free of his influence. The song embodies the feeling of empowerment I now have from being an independent, female musician, who doesn't rely on anyone's skills but my own."
Daria will be releasing a new EP, Changing, on 3/15, preceded by three singles ("Not That Girl," "Changing," and "Blind.") "Not That Girl" is the first of these singles to release, and shows exactly why the EP is highly anticipated.
—
"Not That Girl" and other memorable tracks from this month can also be streamed on the updating Obscure Sound's 'Best of February 2019' Spotify playlist.
The track is also featured in the genre-based, best-of Spotify compilation Catchy Indie Pop.