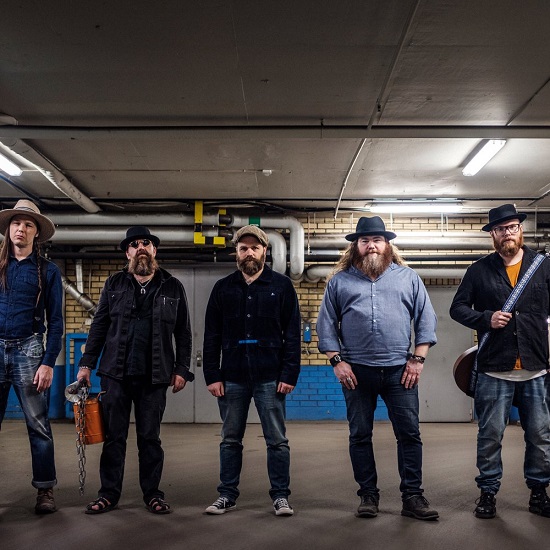 Formed in 2007, in a cabin in the Swedish outbacks, Billy Momo are a band that show infectious appeal on new track "Frozen City." The track succeeds in two parts; concisely effective verses tout a catchy, bluesy passion, while the chorus pursues a more soulful yearning. The "sinkin' deep," hook just after the one-minute mark turns the track into more soulful territory, with the vocals assuming a husky yearning before the catchy, concise "frozen city," verses re-emerge. "Frozen City" is a well-constructed track from an act that has earned praise in Sweden and beyond for their various releases and "more or less constant" tour of Sweden. Look out for their forthcoming album Roots & Vision on May 31st.
More on the track below, from the band:
"Frozen City" is a dark serenade to the band's home base, Stockholm, or "the city that always sleeps", as they call it. Though the city truly is frozen, the song is not really about the temperature of the puddles we might walk on, but more about the general psyche of its habitants during these long winter months. If you have met a Swede who has never considered moving – at least for the winter months – to another country, that Swede was either lying or mad. The cold and darkness imprints on people in the most interesting – and unfortunate – way. Months may pass when you wonder whether Swedes have faces at all, because all you see are hooded heads, bent down, staring at the icy ground.

The song and the video features "The cold kids crew", or possibly some day known as the next generation Momos. According to lead singer Barbarossa, It was not hard to direct the kids to those grim faces. The night (well, it was afternoon, but in Stockholm during winter, that means night) was extra-ordinarily cold, even for Stockholm.
—
"Frozen City" and other memorable tracks from this month can also be streamed on the updating Obscure Sound's 'Best of May 2019' Spotify playlist.