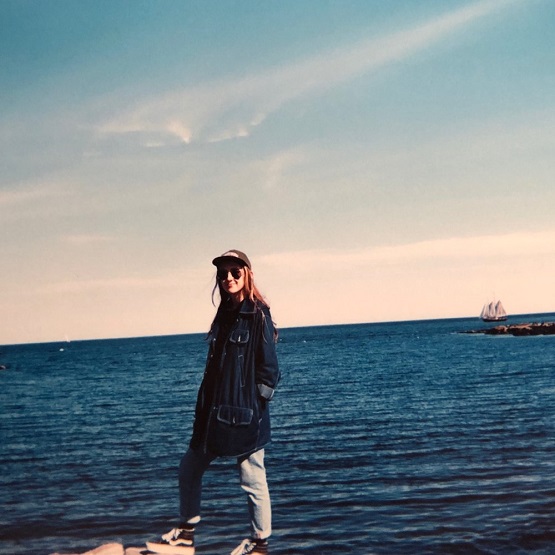 Releasing today alongside the band's debut album Tough Love, "Bedroom Track (Carrie)" is a stirring highlight from the release that shows Los Angeles-based artist Erin Anne's talents as a vocalist and songwriter. The "I know she's out there somewhere," yearning over climactic guitar distortion and playful '80s synths plays with emotionally captivating appeal, reminiscent of Mitski. The album itself meshes an '80s pop aesthetic with pop and punk elements, with Erin Anne (Fitzpatrick) arranging and producing the release herself, in addition to co-production/engineering and percussion talents from Alex Rogers of Family Hahas/A Place To Wash My Hands/Tambourines. The track's final minute — where "kill me," is repeated over whirring guitars and synths, before an acoustical comedown — is especially powerful.
The artist elaborates on the fantastic track and its themes below:
"Bedroom Track (Carrie)" is a pop punk manifesto about queer female desire, both creatively and personally. It attempts to capture in sound the overwhelming longing and isolation that comes from wanting something from a world (and an industry) that might not want you quite as much. Its opening lyrics paraphrase a quote from Carrie Brownstein's 2015 memoir, "Hunger Makes Me A Modern Girl"–she writes, "It was not about strength in numbers or in size. It had nothing to do with volume. It was about surprise. It was about knowing you were going to be underestimated by everyone and then punishing them for those very thoughts." Carrie has been an inspiration for me ever since I started recording my own music in my teens; and when I read this passage for the first time, I felt an overwhelming sense of identification and hope. I return to it all the time.
Stream the strongly recommended Tough Love in full below:
—
"Bedroom Track (Carrie)" and other memorable tracks from this month can also be streamed on the updating Obscure Sound's 'Best of June 2019' Spotify playlist.
The track is also featured in the genre-based, best-of Spotify compilation Indie Rock.