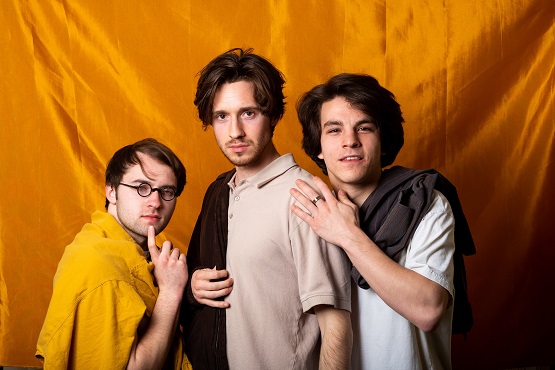 "Better for It" is a consuming track from Fish House, a Boston-based band of longtime friends — who made a vow in elementary school to form a band together, and have certainly kept that promise. The trio of Jake Benavidez, Adam Jacey and Kyle Torr-Brown grew up in Mystic, Connecticut. In 2017, they moved into a Boston apartment together. 2018 brought an EP, Burns from the Rope, with opener "Young People" achieving nice recognition (200k+ Spotify streams).
"Better for It" is a new track release from the band, showcasing the continued refinement of their sound and approach. The soaring vocal ascension shortly after the one-minute mark is gracefully accomplished, the production and stellar engagement reminiscent of Steely Dan. The talented musicianship is evident, especially the fact that this is a band with ample experience working together. The "running through the night," verses — with its lush, swaying pull — contrasts well with the chorus' ascension, all while remaining cohesive in the midst of piano, guitars, and vibrant rhythms. "Better for It" is a nice accomplishment from this rising trio.
The band adds the following regarding the track's background:
It was tossed around in our live set for a few months before finding its final form on analog tape during a recording session in January. The song was written during a hectic transitional period and deals with loss in several forms. Whether it be the loss of life, love or a combination of the two, one's sense of self becomes clouded. Left in the wake of what once was, dissociating can feel like the only answer.

In the absence of a positive force or loved one, their presence can still be felt in the most subtle ways, prodding us forward and propping us up. Gone away, but still a distant participant in our lives. In the end, we're better for it.
—
"Better for It" and other memorable tracks from this month can also be streamed on the updating Obscure Sound's 'Best of July 2019' Spotify playlist.