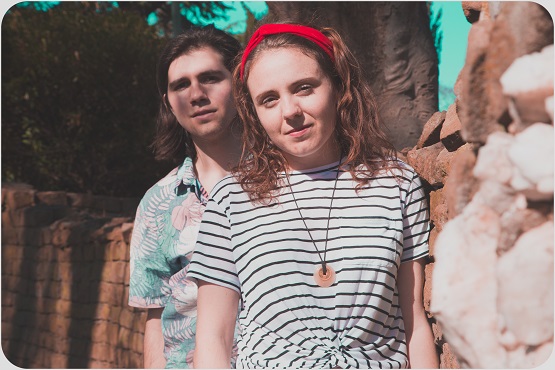 It's a pleasure to premiere "Avila," a consuming track from Seattle-based duo Night Hikes. Comprised of Olivia Godby and Matthew Farrell, the project produces rock and dream-pop sentiments. They alternate vocals on stage, though "Avila" features Godby throughout. "You're the only one who ever made my coffee right," Godby sings during the track's bridge, emitting a captivating retrospection reminiscent of Mitski. The mellow guitar tones and hypnotic, minimalist percussion plays nicely alongside the entrancing vocal presence. "Avila" is a memorable release from this emerging duo, one they describe as a "dreamy, beachy tribute to the glory found in mundane acts of love."
Godby elaborates on the track below:
I was once at a cafe when I noticed an elderly couple being seated, the man inching along, hunched over his walker. As he sat down, his wife fussed about to help him, fixing his chair and pouring him a glass of water. When he was settled, he reached across the table, strained to hold his head up to gaze at her, and simply held both her hands in his, smiling softly with gratitude. I was moved to tears just witnessing this testament to a lifetime of selfless love and trust in one another.

"Avila," named after a beach in California, is my imagining of what that old man might say to his wife after decades of commitment to each other. It is a tribute to the glory that can be found in ordinary, daily, mundane acts of love, gathered together over years of triumphs and challenges. It seeks to know the patience and honesty of this couple and finds inspiration in the slow pulse of a love that never rushes and is always present, most especially in the difficult and banal experiences of life.

Despite lyrics that reflect a couple nearing the end of its time, the instrumentation is intentionally celebratory and dynamic. With this, I hope not only to illustrate the playfulness of spirit that such love can foster over a lifetime, but also to mirror the life-force to be found in beauty that can't last forever.
—
"Avila" and other memorable tracks from this month can also be streamed on the updating Obscure Sound's 'Best of August 2019' Spotify playlist.