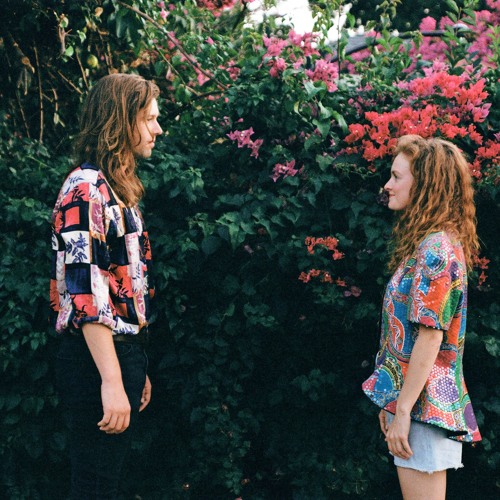 "You Already Are" is the soaring, melodic debut single from Isaac & Robi. The Los Angeles-based duo wrote the track during the several earthquakes that took place in Los Angeles over this past summer, also coinciding with personal events like moves and break-ups. The emotional time resulted in this track, with the duo commenting: "We took the feeling of overwhelm, combined with our support for one another, and put it into this song."
The bass-driven expansion just past the one-minute mark anticipates a crisper vocal turn around 01:25, with the "you already are," repetition around 02:07 serving as another infectious highlight. Isaac & Robi's colorful sound — merging folk music naturalism with electro-pop effervescence — succeed convincingly on "You Already Are."
Isaac elaborates more on the track below:
In June/July, there was a series of earth quakes from the San Andreas fault line that shook LA pretty hard. Up until that point, we were in a sort of creative slump. It shook us up pretty good, and somehow had a positive effect on our creative brains. That day, I started working on the arpegiator that you hear on the track, on Robi's computer just with GarageBand. Just sort of messing around. I saved it, sent it to myself, then forgot about it. A few days later, I loaded the track in on Ableton at an apartment I was staying at in Brentwood and fleshed out the track. On July 4th, she came over and we started laying down the preliminary vocals in my bedroom. We finished the song in the span of about four days.

We let it sit for a while, and experimented with doing the song live at a few different venues, where I toyed around with harmonies until we found something that felt right.

I then left LA for a few weeks to work on other projects. I came back for a few days and we re-recorded all of the vocal takes on a Shure KSM32, this time with harmonies. We also spent two days in the studio with Gunner Sixx, fleshing out the track, re-recording the arpegiator with a Moog analog synth, as well as a few other synths that I forget the name of. He mixed it and overall made the production sound 5,000 times better. We sent it to Benjamin Dunn in Nashville for mastering.

As far as theme: Robi and I wanted to discuss the fact that we wear a lot of different hats, playing various roles, for different people in our lives: Brother, uncle, teacher, lover, delivery driver, performer, audience member, etc. we were talking about how it can be dangerous to lose who you really are in the midst of the different roles you play. (Thus, "shapeshifter, don't change your face.") I think that's the main theme we're trying to get across in this song. Also, just the idea that sometimes you need to be shaken up (sometimes literally) to get your head out of your own problems and actually realize that life can be beautiful, fulfilling, and meaningful. Sometimes supposedly bad things need to happen for you to understand the good.
—
"You Already Are" and other memorable tracks from this month can also be streamed on the updating Obscure Sound's 'Best of November 2019' Spotify playlist.