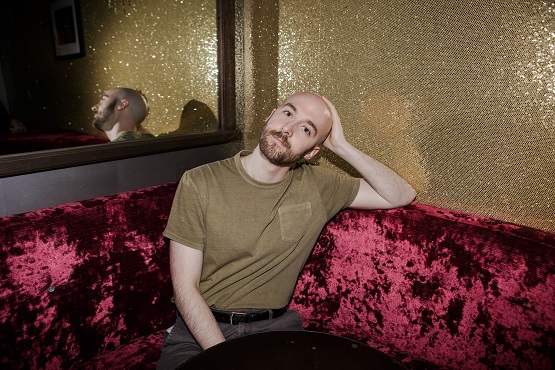 Releasing today, "I Don't Mind" is a meditative folk-pop gem from Common Jack. Pursuing the theme of "letting go of living your life for external validation," the track is immediately engaging. Ethereal vocals aptly complement an autumnal acoustical pull and slight percussive shuffles. Some additional textural complements emerge around 01:25, with added guitar strings and a slight symphonic-tinged padding in the background. Throughout the track's duration, serenely sweeping vocals and lovely guitar work lead the way.
Common Jack, the project of folk-rock singer John Gardner, released the EP Canyons in the Dark earlier this year, earning more than 1.2 million total streams and ample praise, including a distribution deal with Black 17 Media.
Gardner founded the Common Jack project during a two-year world tour with the actor-musician Broadway show Once, inspired by the film of the same name. A conversation John had with the film's lead, Glen Hansard, in Los Angeles left a mark. Responding to Gardner's doubts, Hansard spoke with an affirming wisdom: "It's frightening to lift our voice, but it's always worth the effort." The words made an impact, and Gardner soon left Once to begin recording the EP and, now, "I Don't Mind."
The artist elaborates on the track below:
I wrote this song loosely about my experiences with anxiety and the way the music industry takes advantage of feelings of inadequacy and insecurity, if you let it. Before I recorded my previous EP, Canyons in the Dark, I started feeling like I was some sort of demented puppy, running around trying to get industry folks to give me validation and allow me to build a career out of my passion for music. 

After a particularly bad string of panic attacks in August of 2018, I had a realization about what was happening to me and the false approval I was looking for; approval that would never make me happy even if I got it. So, I promised myself I would give up that way of thinking and strive to impress myself first and foremost with the art that I created. The night I had that realization, the first line of the song, "I am done spending all my money trying to find serenity", came to me. There was something so clean and honest about it. Within 15 minutes, I had written the rest of the song and texted my producer about a studio session. 

With the story behind this song, it felt right to create a meditative vibe in the studio. In a way, I was looking to create a sort of prayer for myself, a reminder of what's really important. So, my producer Harper James (Eighty Ninety, Middle Youth) and I looked to Cat Stevens, Adam Melchor, Elliott Smith, and Sufjan Stevens as sources of inspiration. I knew the heart of this song was going to live in the way we layered guitars and vocals, so those artists kind of became our roadmap. 

I think the sentiment of this track applies to a number of situations we encounter in life. It's so easy to fall into the trap of living your life for outside things and ignoring the relationship you cultivate with yourself.
—
"I Don't Mind" and other memorable tracks from this month can also be streamed on the updating Obscure Sound's 'Best of December 2019' Spotify playlist.