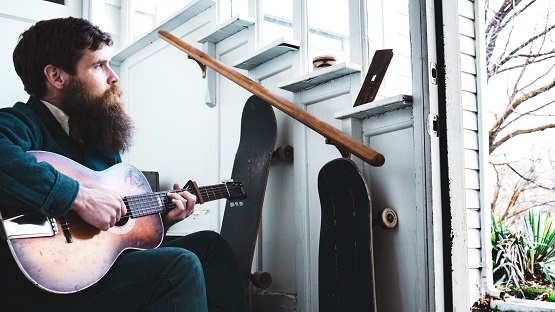 The moving "The Death of a Soldier" is a track released today from Jesse Blake Rundle, capturing the passion and tension of the poem The Death of a Soldier by Wallace Stevens. The Kansas-raised songwriter releases his debut album, Radishes and Flowers, this April, offering 12 tracks that feature the poetry of Wallace Stevens' Harmonium arranged as a song cycle in an indie folk setting. Rundle's stirring songwriting combines with Stevens' affecting words for a resonating effect.
The "wind stops," vocal effervescence combines with fluttering acoustics and bright organs for a particularly memorable moment. The rising vocals in the final moments — "season of autumn," — sounds reminiscent of Fleet Foxes, and caps off this memorable track in affirming its aesthetic and melodic pull. Throughout the track, there's a passion in the vocals and ruminating acoustics, nicely reflective of the poem's delivery concerning death's inevitability.
"I still recall the windy day I first read The Death of a Soldier by Wallace Stevens," Rundle says. "I was in a park in Santa Fe with the cloudy skies overhead and those opening lines, "life contracts, and death is expected," stuck in my mind. It was a chilling, but real, feeling. It is hard to look death in the face. Many years later, after watching my mother face death, the words hit harder. I wrote the song from that."
This track also marks the first song that Rundle worked with Nate Agenbroad at Mixed Metaphor in Boise. "We did a version of this song over a year ago and after that we hunkered down and spent the next year collaborating on the whole album," Rundle says.
—
"The Death of a Soldier" and other memorable tracks from this month can also be streamed on the updating Obscure Sound's 'Best of February 2020' Spotify playlist.
The track is also featured in the genre-based, best-of Spotify compilation Emerging Indie Folk.