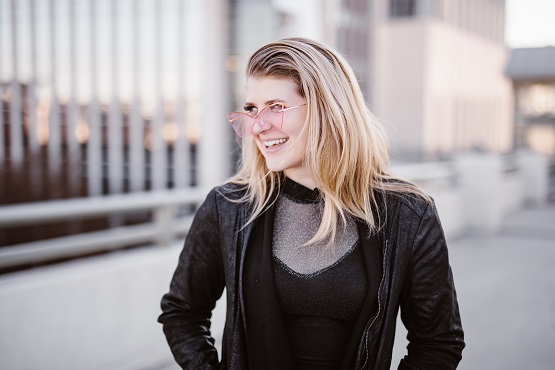 We're pleased to premiere Happy on TV, a catchy pop-minded EP from Anna Claire Loftis. The EP releases officially on Friday, 4/24, though you can listen early from the stream above.
Loftis is originally from Montgomery, Alabama. Now based in Nashville, she continues to rise in the city's pop scene. The Happy on TV EP seems poised to propel the artist further, evident right away with the opening one-two punch of the self-titled track and "In the Morning." "Happy on TV" works with bouncy bass to start, with clanging keys and guitars emerging in snappy form. Brass-y spurts and added vocal exuberance lead during the excellent chorus, with a serene bridge around 01:30 playing with entrancing allure. Per the artist, the track "plays out a relational metaphor to convey the importance of (in-person) human connection."
In the more electro-pop spectrum, "In the Morning" is an infectious display. Lyrics tactfully speak about mental illness and depression, counteracted with a shimmering vocal-sample hook. The "somebody wake me up," hook shines — and is one of many hooks within the EP. Loftis' lyrics are engaging throughout too, balancing metaphorical wit with poetic confessional form, drawing on personal experience and faith. Happy on TV is a thoroughly enjoyable EP.
—
"In the Morning" and other memorable tracks from this month can also be streamed on the updating Obscure Sound's 'Best of April 2020' Spotify playlist.