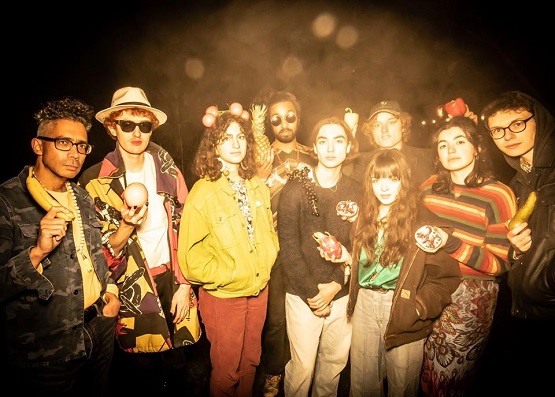 "Hypersonic Super-Asterid" is a newly released track from Mandrake Handshake, an Oxford-based act with a creative take on psych-rock, which they dub as "Flowerkraut." This particular track was influenced by Stereolab's set at Green Man Festival last summer. Spacey synths and a swelling rhythm section kick off the track. Flashes of guitar emerge shortly thereafter, with a trippy, twangy layer preceding the serene vocals. These dreamy vocal segments intertwine gracefully with guitars and rhythm that find a cross between psych, funk, and rock. Roaring guitars after the five-minute mark show a sweltering, climactic pull, helping the track land a satisfying conclusion after its nearly nine minutes of gripping content.
Mandrake Handshake elaborate more on the track below:
"Hypersonic Super-Asterid (HSSA) represents the culmination of many strands of thought over the process of several months. It is designed to announce the coming of The Mandrake in her all forms and the ascent into her realm as it soundtracks the listener coming to know what will be expected of them for all future sonic explorations. No expense has been spared to bring the listener to the zenith of high fidelity and have them fully understand what otherwise they might only hint at knowing."
—
"Hypersonic Super-Asterid" and other memorable tracks from this month can also be streamed on the updating Obscure Sound's 'Best of May 2020' Spotify playlist.