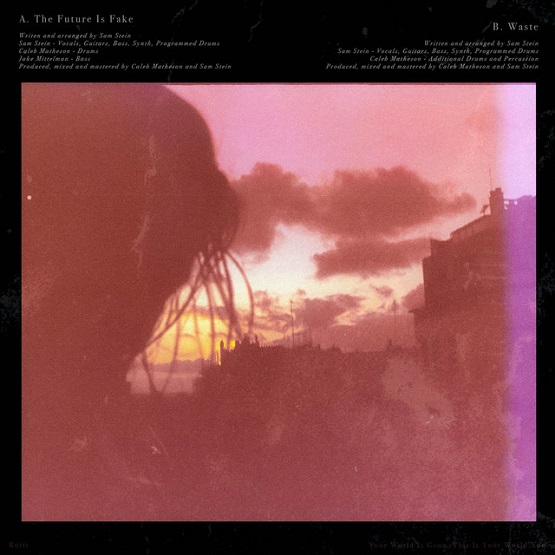 Rutti is the pseudonym of songwriter Sam Stein, previously the singer and guitarist in the New York band Lazy Bones. Debut single "The Future is Fake" is co-produced and engineered by Lazy Bones bandmate Caleb Matheson, a fitting choice considering how the track grows on Lazy Bones' fuzz-friendly early singles. Murky, distorted guitars quickly excel into a bouncier pace, fading into a more melodically fragmented role as the lush vocals enter the fold. A wave of warming guitars at 01:09 kick-starts a sequence of textural beauty, with the shoegaze-friendly tone carrying to an enjoyably sludgy second half.
Stein comments on the track's lyrics below:
"The lyrics of the song question the sincerity of relationships conducted digitally, and conclude with a chant- Your World is Gone This is Your World Now. This mantra, spiraling tumultuously amid an increasingly chaotic sea of distorted guitars and bombastic double-tracked drums, refers to the feelings of ambiguity communicating without being face to face, unknowing amidst the world's chaos, contradictory news blaring from all directions, and to the new direction of Stein's own musical output."
"Waste" is another highlight from the project, a b-side to the debut single. Guitar distortion and hypnotic swirling keys make for a winning, hypnotic feeling throughout. This track continues to further explore the distorted, shoegaze-friendly component evident at pints in "The Future is Fake." Both these tracks show a talented project well worth following.
—
"The Future is Fake" and other memorable tracks from this month can also be streamed on the updating Obscure Sound's 'Best of May 2020' Spotify playlist.