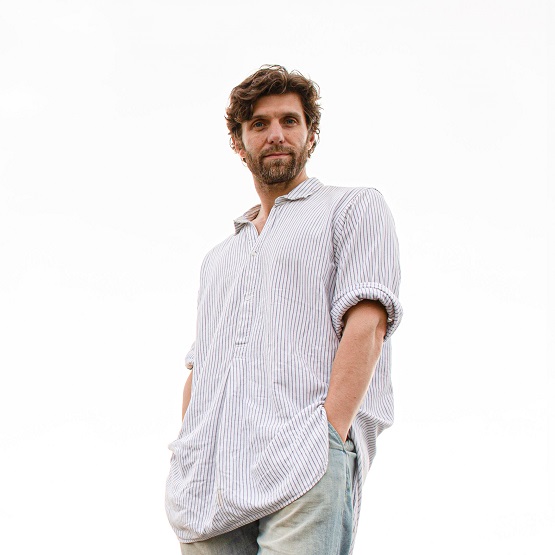 Following years as a touring musician in acts like Lovedrug, Enoch Porch makes his striking solo debut with the tracks "Grand Army" and "c o n n e c t i o n." The former leads with a gripping vocal suaveness, fondly reminiscent of Neil Young. A soaring guitar solo at 02:30 lends a twangy reverberation alongside a backing organ. From there, the track steadily fades into a memorable twilight. "Grand Army" succeeds with a haunting melody and confident aesthetic.
"I fell deeply, painfully, in love with someone who was close to me but couldn't love me back," the artist says. "I lost contact with myself, as if my center had ripped right out of me. This song came out of exploring how this experience echoed the feelings I had as a child of my mother who, while in proximity, wasn't able to give the kind of love her children needed."
The b-side to "Grand Army," "c o n n e c t i o n" is described by Porch as "a song of comfort which features a field recording of a message that was delivered from the spirit realm to my brother, a painter and writer from Nashville." The track's nocturnal-friendly spirit is guided by minimalist percussive presence and an organ-laden backbone — shades of Springsteen's Nebraska. Caressing acoustics and a shimmering rhythmic uptick lead a delightful second half. Both these tracks show engrossing songwriting and production from Enoch Porch.
—
"Grand Army" + "c o n n e c t i o n" and other memorable tracks from this month can also be streamed on the updating Obscure Sound's 'Best of June 2020' Spotify playlist.
The track is also featured in the genre-based, best-of Spotify compilation Emerging Indie Folk.