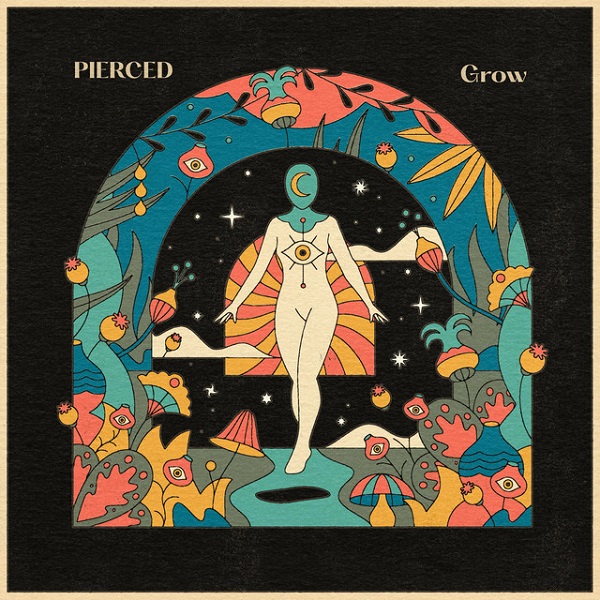 "Grow" is a track out today from PIERCED, showing a majestic sound with spine-chilling vocals and synth flourishes. The mysteriously engaging vocal presence engrosses, with a cool uptick in effervescence at the one-minute mark. The prancing keys add nicely to the wordless vocal soaring. "Grow" is an atmospheric, consuming track with ample replay value. The songwriting and production talents of Katie Pierce are on full display, joined by engineer Glenn Davis (Way Yes), drummer Garet Powell (Miya Folic, Gothic Tropic, Houses), bassist Matt Strong (Spaceface), and guitarist Jeff Culley.
Pierce's statement on the track can be found below:
""Grow" is about taking life experiences, good or bad, and transforming them into opportunities for personal and societal growth.

Over the last 5 years, I've transitioned through many major life events and traumas. It started with a broken engagement in 2015, which was the major source of inspiration for my debut EP, "PIERCED." In the aftermath of the 2016 election, I decided to leave my home in Brooklyn and moved to Los Angeles. I got a job at a start-up that was demanding and extremely stressful and left me devoid of any creative inspiration. When my oldest brother Chris was diagnosed with stage 4 lung cancer in 2018, my focus shifted to my family. He passed in early 2019 at the age of 38. Later that year, I was laid off and unemployed for 5 months. My cat Nico also passed away from cancer in June.

Now, we find ourselves in the midst a global pandemic and a cultural and societal awakening. I was left pondering, "In the midst of the upheaval of 2020, what can we do?"

We have reached the tipping point. We are awakening to the racial, gender and socio-economic disparities that our capitalist society was built to uphold. It is time for us to tear it down and start over again. It's time for us to grow beyond the divisions. To awaken from complacency. To seek justice and demand true equality for all. To be able to recognize the truth. To preserve this delicate planet we call our home.

Individually, I believe we must must examine our past behaviors that are problematic and work to self-correct. We can walk away from relationships that no longer serve us and only perpetuate toxicity.

And finally, we must forgive ourselves. We cannot dwell upon the past, the shame, the what-ifs or if-onlys. We have to learn and continue to expand and evolve. We must never stop growing."
—
"Grow" and other memorable tracks from this month can also be streamed on the updating Obscure Sound's 'Best of September 2020' Spotify playlist.
The track is also featured in the genre-based, best-of Spotify compilation Emerging Electronic.