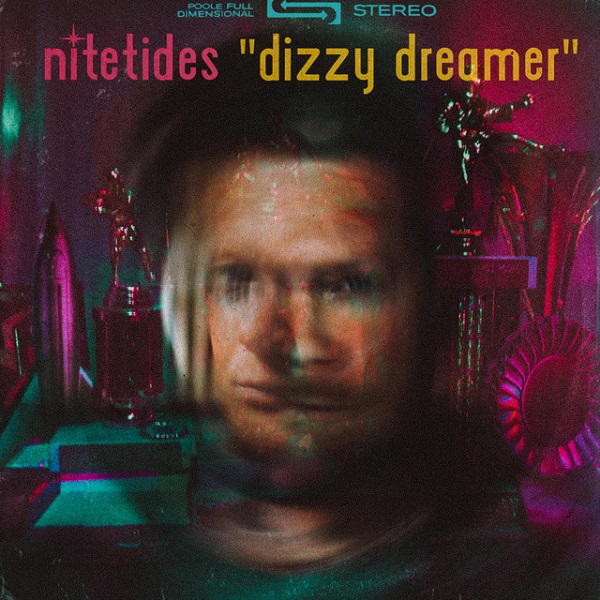 A melodic treat with jangly power-pop soaring, "Dizzy Dreamer" is a hooky track from Nite Tides. The Nashville-based project is the alias for Ryan Poole, who also works as a sound engineer and producer. Nite Tides' third single, "Dizzy Dreamer" continues to showcase Poole's knack for stellar production and bountiful hooks. In particular, the "please don't lose your faith in me," turn is delectably replay-inducing, reminding fondly of Teenage Fanclub. The track concludes with gorgeous vocal harmonizing, an apt send-off to a melodically addictive listen. Emotively vulnerable while still exuding considerable charm, "Dizzy Dreamer" is one that easily engages.
Poole elaborates on the track below:
"If you've ever felt spun-out and out of control on the path to your dreams, this is a song for you. It's about the insane feelings we all go through when we pursue our dreams for love, purpose, and meaning.

"Dizzy Dreamer" is the most vulnerable song I've ever written, and also the most difficult to complete. It is about the sensation of feeling turned around and spun-out in the pursuit of a dream. Especially when those dreams take years of hard work and suffering to come true.

It's also about relationships falling apart, sometimes because of those very dreams we've given ourselves to.

I wrote "Dizzy Dreamer" over a 2 month period while the girl I thought I would marry and I broke up in slow-motion.

Despite giving our relationship my all, I felt like I couldn't give enough to make it work. I desperately tried to hold on all the way to the bitter end; ultimately losing myself in the process.

Writing Dizzy Dreamer was my healing process.

The nugget of wisdom I learned along the way is contained in the bridge.

You have to be true to who you are, and honor the life you've built. That we can participate in choosing who we want to become is one of the most beautiful things about life. Sometimes you meet, and maybe even fall in love with people who aren't compatible with the person you've become—but you shouldn't change yourself to be a person that would be more suitable for them. It might seem selfless to change for them, but to do so is to be wildly unfair to your past-self who gave everything they had to be you."
—
"Dizzy Dreamer" and other memorable tracks from this month can also be streamed on the updating Obscure Sound's 'Best of July 2021' Spotify playlist.
The track is also featured in the genre-based, best-of Spotify compilation Emerging Indie Pop.