Posted
July 15, 2021 by Mike Mineo
in Tracks
The Wavos – 'Five on the Floor!' EP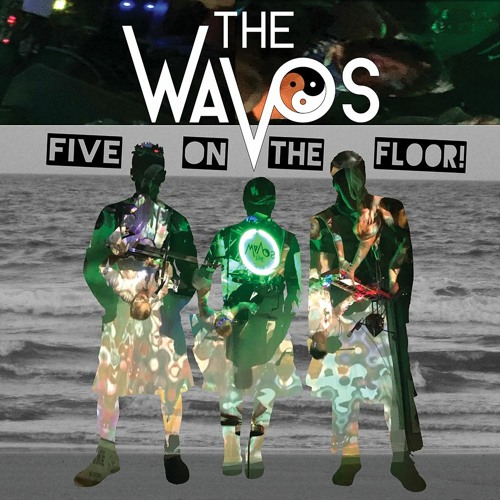 The Wavos recently released their fourth EP, Five on the Floor! — its five tracks exemplary of the band's eclectic, melodic sound, ranging from funk homage "Love Beach" and electro-dance rocker "Come Alive" to the twangy delight of "Buffalo Girls."
Quick-swiping guitars and brassy blares complement a funky vocal lead to conjure excitement throughout "Love Beach." The vocal twist around 01:33 exudes charisma, strutting wide range and a nice responsive backing vocal presence, giving way to a brass-friendly section that reminds me fondly of Funkadelic. The vocal repetition in the final minute crafts a hypnotic, replay-friendly feeling.
"Buffalo Girls" plays with a fun, infectious quality throughout. Playful synth-y fragments join alongside the hooky "Buffalo girls," vocal refrain, intriguing in the first minute. The twangy guitar addition at the 40-second mark adds an enjoyable aesthetic edge, as does the added vocal harmonizing upon the next hook/refrain. There's a bit of a McCartney-esque vibe around the bridge at the two-minute mark. The spacey synth-heavy segment a few moments thereafter also captivates. I'm enjoying the charismatic, upbeat flair of this throughout.
"Come Alive" is another highlight. The nostalgic synth bustling in the beginning leads into suavely melodic vocals, expanding with charisma past the one-minute mark. The "make me come alive," vocal hook plays with hooky allure, the bustling synth and suave vocal convergence exuding a consuming sophisti-pop aesthetic. The nonchalant vocal turn around 02:30 builds a pleasant bridge, culminating fully to the "make me come alive," hooky reprise, leading into a satisfying conclusion.
Stream these tracks, along with the rest of Five on the Floor!, below:
—
"Love Beach" and other memorable tracks from this month can also be streamed on the updating Obscure Sound's 'Best of July 2021' Spotify playlist.