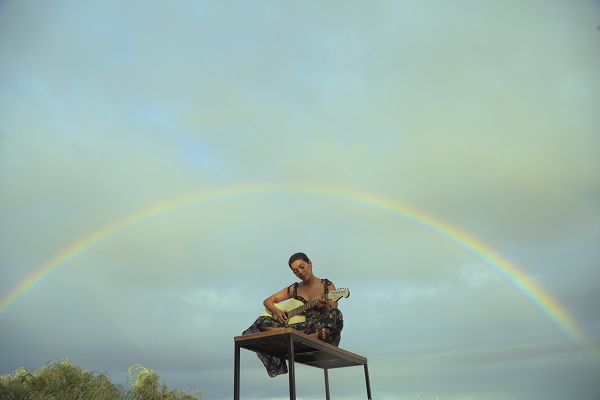 "Columbus, Ohio" is the heartfelt debut single from NYC-based artist Nellie. The lyrics poignantly capture the feeling of home being wherever your love is, no matter where. Optimistic guitar tones complement Nellie's resonating vocal presence: "Take me to Columbus, Ohio, we'll catch the first flight out tomorrow." The soaring chorus — "I just wanna go where you go, even if it's Columbus, Ohio," — makes a stellar impression, especially the "best part," conclusion amidst the twangy guitar affections. The lyrics play with a loving, genuine quality; the "just wanna go where you go," refrain remaining convincing throughout, and especially in the conclusion amidst the backing harmonies. "Columbus, Ohio" is a striking debut from Nellie.
The track was recorded in Brooklyn, produced and mixed by Daniel Alvarez de Toledo and Jordan Dunn-Pilz, also known as previously featured duo TOLEDO.
Nellie elaborates more on the track's themes below:
"I was in a long distance relationship with my partner for two years until I moved down to NYC and we finally were together. He inspired me to try and write a fun song about our relationship. One of our first dates in NYC, we got (very) drunk at the Standard and started bullshitting about life together. He raved about Ohio, his old stomping grounds, and I reiterated how I would never move there. I'm a New Yorker through and through. After years together apart, I realized I just wanted to be together- no matter where."
—
"Columbus, Ohio" and other memorable tracks from this month can also be streamed on the updating Obscure Sound's 'Best of November 2021' Spotify playlist.