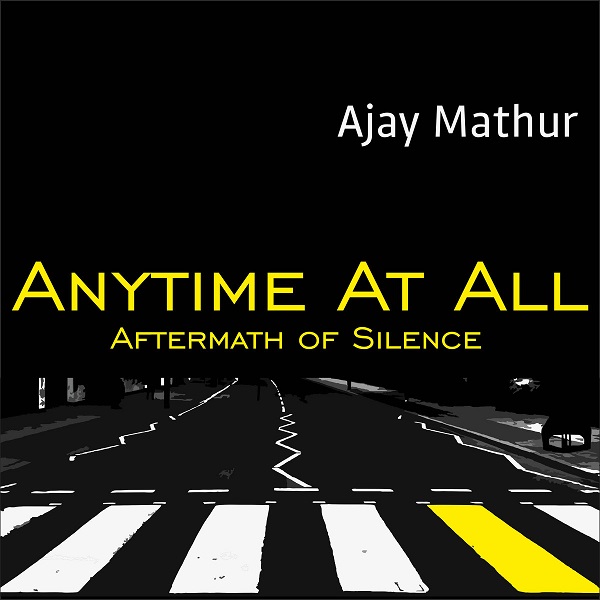 Following up his track "I NEED YOU NOW," the two-version single "Anytime At All (Aftermath of Silence)" is the latest from Switzerland-based artist Ajay Mathur. Dedicated to John Lennon, the track was written from the perspective of someone close to Lennon, witnessing his death. Birds chirping and piano give way to emotive vocals, offering a lyrically reassuring quality — "I'll be by your side." This refrain plays with particular resonance around 01:30, when backing synths and pulsing percussion blend enjoyably with the vocals. The track touts a melancholic yearning, especially amidst the piano and acoustical backing past the two-minute mark. "Anytime at all," Mathur sings with soulfully engaging qualities, driving to a satisfying conclusion as the rhythm section intensifies. "Anytime At All (Aftermath of Silence)" is further showcase of Mathur's stellar songwriting and passionate vocal delivery.
Mathur elaborates further on the track, below:
"People exit our lives for many different reasons – end of a relationship, geographic separation, death by illness, carelessness or maliciousness of others – and we are forced to face the void. Recognizing that they are never really gone is where we can begin to find peace and comfort. "Anytime At All (Aftermath of Silence)" describes that moment of clarity, that the people who have touched you deeply are always going to be there with you. All you've gotta do is call."
—
"Anytime At All (Aftermath of Silence)" and other memorable tracks from this month can also be streamed on the updating Obscure Sound's 'Best of September 2021' Spotify playlist.