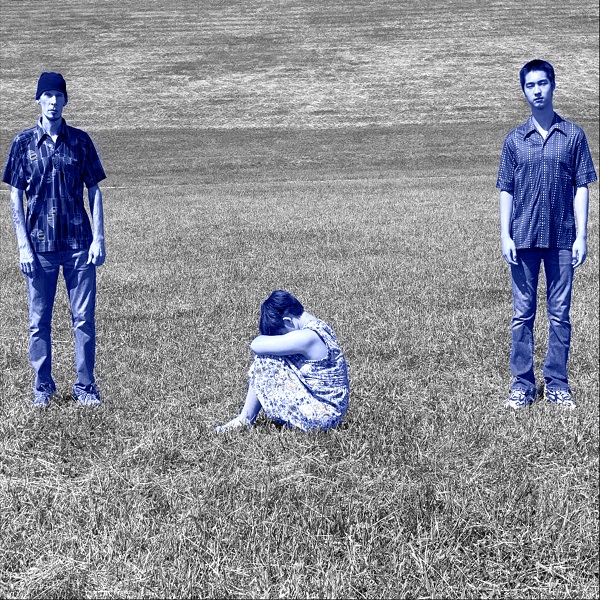 We chat with New York-based rock trio Okami Three, who recently released the single "Blue."
Your latest track "Blue" deals with the subject of losing someone, exuding a captivating melodic yearning. What was the primary inspiration for the pursuit of this theme?
We wrote "Blue" last year during the whole lock-down period. While it wasn't the sole inspiration for the song, the pandemic certainly contributed to the sense of loss we had at that time. We were all coping with the dissolution of relationships at the time and with the advent of social distancing and thousands of people dying everyday, it made it that much harder to summon any sense of optimism or positivity.
You have described "Blue" as a "contemporary culture clash," — did the track have initially different stylistic beginnings that evolved into something else later on?
We describe our band, not that song, as a culture clash as Haoto and I have American and Japanese heritage. I was toying around with the melody for Blue on piano one afternoon and singing the verses. When the boys heard it they insisted we develop it. Michael worked out the oscillating acoustic guitar phrase that goes under the verses and suggested doubling it with a clean electric guitar to represent a pairing in unison. We were all in a somewhat ruminant state but it was Haoto who proposed the retrospective element of "dancing on the mountain" to endless harmony and dreaming about what could or should have been. Michael needs full credit for creating the heavy "broken stairway" section claiming it represents the frustration, disappointment, and anger associated with identifying the causes that negatively affect or impede a relationship.
NYC is filled with tons of stuff to do. What's your personal favorite venues? 
Pete's Candy Store, Bowery Ballroom, and Rockwood are fun but we all agree that Arlene's has the best sound.
What was the first album you heard that had a strong impact, either artistically or personally?
Me; "Still into you" by Paramore. Hayley Williams has such a great voice.
Michael; "Would" by Alice In Chains. He loves Layne Staley's voice and Jerry Cantrell's guitar work.
Haoto; "Core" by Stone Temple Pilots. That album is CONSTANTLY playing on his devices.
Do you have a specific process or ritual when creating new music?
When we get together to play, each of us usually has an idea or motif that we share and bounce off each other. From there, we rely on each other's creative input and artistic instinct to further develop the material. We all have rather diverse backgrounds, likes, and interests which avails us a large pool to draw from. We write and play whatever we're feeling at the time without regard to following a specific genre or style and the result is, for better or worse, a relatively variable catalogue of songs.
Any favorite artists or albums you're listening to at the moment?
We love "Paramour" by Shai Skye. Her single has been out for a while and we don't understand why it hasn't gotten more acknowledgement. She has one of the greatest voices to come on the scene in quite a while.
If you could collaborate with any artist, alive or dead, who would it be?
I defaulted to Michael for this question and his response was either Jim Morrison or Robert Smith. Morrison for his lyric and story content, and Smith for his melodies.
What do you find is the most satisfying part of being an artist?
After all the work involved, listening to playback of a final mix and being wholly satisfied with what you've created.
What is the biggest challenge you find in today's music industry?
Determining the best way to get our music to people who might enjoy it is perplexing.
What's upcoming for the project?
Our next song "Ronnie" will be a significant turn from the somewhat sullen sentiment that Blue instills. Very upbeat and optimistic with lots of vocal harmony and interesting musical patterns.
Release is tentatively slated for the end of March.