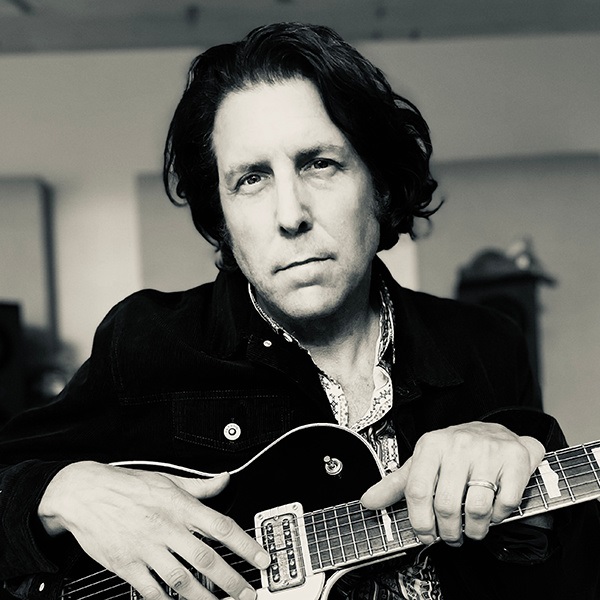 We chat with Santa Cruz-based singer/songwriter Stel Furet, who recently released the EP 'human nature machine.'
Your debut EP human nature machine is a concept album, encompassing many of life's universal experiences. What inspired you to pursue its particular themes, and a conceptual EP in general?
I was getting ready to release a couple singles a few years ago and looking back I think I was trying to write to sell or write for today's market. At some point I realized that I didn't want to compromise my creativity so I shelved all of that. There was something much more profound that I needed to express first. Vinyl was and is always an experience for me, liner notes, lyrics, imagery. You listened to a whole side in one sitting and it absorbed you. I've always wanted to create that experience. This is really meant to be listened to end-to-end, maybe late night in the living room with the lights down. If someone gives me their time, I want the journey to be incredibly satisfying. I want that last note of "The Mirror" to leave them silent; leave them wanting to start the whole journey all over again. If I can do that for someone, that's what it's all about.

And I think at some point in life a good lot of us tend to feel like we're the only person in the world unsure of who and what we are and that everyone else has their shit together. So not true. But we're all just the sum of our experiences really. So at some point we become self-aware and we come to terms with who we've become. That's really difficult for those of us who've become something we don't want to be. And to face yourself honestly can be very painful, yet incredibly transformative. That struggle became so much of who I am that I needed to lay that journey out visually and melodically in a way that was enjoyable to anyone. 
The project emphasizes the role of storytelling in songs. What's the most memorable narrative or story you've ever heard conveyed through a song?
Ever? That would definitely be "Me and Bobby McGee." I remember when I was young, just rolling down the freeway and my mom just belting it out to the radio. It just painted these incredibly vivid pictures in my head that I still have today. I wanted to be in that song. I think that's really the moment I started writing. 
You're based in Santa Cruz. Do you have any general recommendations for first-time visitors?
Yeah, depending on what time of year, you'll want to watch the surfers at Steamers Lane if there's a good swell. Pacific Avenue downtown is full of restaurants and shops. 
What was the first album you heard that had a strong impact, either artistically or personally?
Definitely "Goodbye Yellow Brick Road." The piano and the melodies just grabbed me. It was my escape when I was very young. Artistically it's just a masterpiece. Personally, it's a happy place. Though I admit it's been a while.
Do you have a specific process or ritual when creating new music?
Well, I tend to write at my piano, "Cupcake." The entire EP was written on piano. Though I also write on acoustic guitar. I'll then put demos together where I play all the instruments. I'll then have someone else do the final drums, bass, and the more complex keys. I can't play those instruments to level that need. I'll then re-track the guitars and finalize the vocals on top of that. 
Any favorite artists or albums you're listening to at the moment?
I do this thing where I pick a new and an old every week and give them proper attention. Right now it's When We All Fall Asleep – Billie Eilish and an old Cleveland band called The GODZ. Their self-titled first album, is some really rough stuff that will definitely rattle your teeth.
If you could collaborate with any artist, alive or dead, who would it be?
Bob Dylan, no question. I had a dream that I met him and he gave me some lyrics. I wrote them down when I woke up. I read them like a week later and they really sucked. 
What do you find is the most satisfying part of being an artist?
Little sparks of ideas come from all over the place. Chelsea for example was a really sad girl on the 7 train coming into NYC. I remember hoping she got dumped and no one died. Most of my ideas are really bad though. But seeing and hearing an idea that I love go from that spark to a fully produced song is incredibly satisfying. 
What is the biggest challenge you find in today's music industry?
I think if you're really driven to make music, you're going to do it no matter what, and it's easier than ever to get it out there. Then the biggest challenge has to be a two-way tie between getting it heard and getting paid fairly for it. 
What's upcoming for the project?
Some live Bay Area shows later in the summer just for fun and because it's been a long time. And to try out some new stuff. The next EP is well under way. This time I'll be releasing a couple singles first. The plan was always three 5 song conceptual EP's to start. After that I don't know but I have a lot of material.