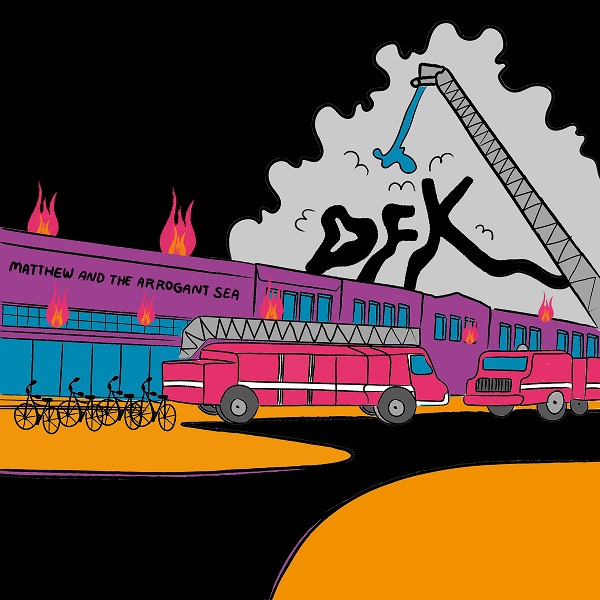 "D F K" is the latest track from Matthew And The Arrogant Sea, a band from Denton, Texas. The track evolves from quaint, dreamy acoustics into backing chamber-pop flourishes and twangy guitars; the track beautifully meshes rock, folk, and lush pop components with seamless, infectious qualities. The "walls close in," bridge escalates the vocal intensity amidst string-laden lushness and twinkling keys, making for a wholly effective turn. Impressing a few years ago with the track "Swedish Death Metal Cassette," Matthew And The Arrogant Sea continue to mold their sound with eclectic, melodic charm.
The band elaborate further on the track and its players, below:
"This song wrote itself—–or perhaps I should elaborate…Denton is a mysterious and delightfully innerconnected hot spot. The energy here…is just different. The things that happen here are often otherworldly…This was one of those moments. As I stood there watching yet another iconic building mysteriously burn to the ground. In my hometown of Denton, TX. This song was birthed with great love because of that moment. It features an immensely Talented cast of players (otherwise known as The Arrogant Sea) Including: Tony Whitlock, Blake Vickrey, Hagen Hauschild, Juan Pablo Alzate, Jesse Chandler (of Midlake and Mercury Rev) Matt Hibbard (Relick) and Matthew Gray as the titular Matthew."
—
This track and others featured this month can be streamed on the updating Obscure Sound's 'Best of March 2022' Spotify playlist.