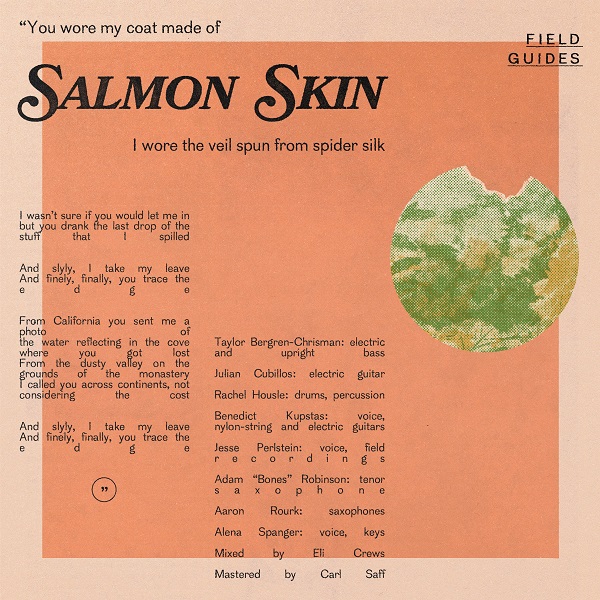 Soothing vocals and atmospheric saxophones lead the entrancing "Salmon Skin," a recent track from Brooklyn-based artist Field Guides, fronted by Benedict Kupstas alongside a range of collaborators. "Salmon Skin" represents the first single from Field Guides' third album, Ginkgo.
Ruminating bass and a steady rhythmic thumping complements an understated vocal delivery, initially, lifted up by the vibrant vocal additions of Alena Spanger (Tiny Hazard) around the one-minute mark. Thereafter, the track pursues a more psych-friendly enamoring, where prickly keys integrate with consuming saxophones, from Adam Robinson and Aaron Rourk. Stellar mixing from Eli Crews (Tune-Yards, Why?) helps to balance the track's various inner-workings, resulting in a lushly mesmerizing meshing of folk, art-pop, and jazz.
Kupstas elaborates on the track's creative process, below:
""Salmon Skin" was mostly written while I was in Lebanon a few years ago, volunteering with an NGO in the Bekaa Valley. It was an intense time. I was corresponding with Alena Spanger (longtime collaborator), who was in California at the time, getting lost in coves. I was spending my breaks sitting in a sort of grotto on the grounds of a very old monastery, where a mangy feral cat would sit on my lap. The geographical and psychic displacements felt a bit surreal. And I found some sort of parallel correspondence between salmon and spiders. I had been in the process of moving to Switzerland, but feeling extremely conflicted about the prospect, and lots of things were unraveling, dizzying forks in the road. That's what that song grew out of. It was the first and only song we recorded with the full live band, before the pandemic and other disruptions forced a change in approach."
—
This track and others featured this month can be streamed on the updating Obscure Sound's 'Best of May 2022' Spotify playlist.