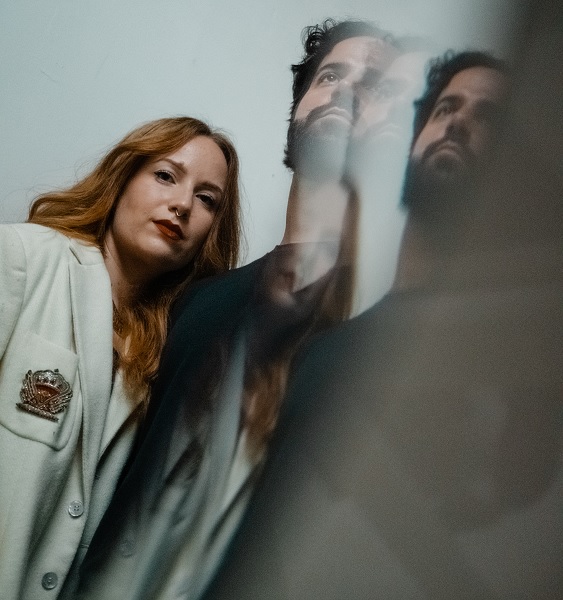 "quiet mind" presents a darkly invigorating sound from Marble, off the Seattle/Portland-based band's upcoming debut LP, the shadow in me. Guitar-led swells of distortion alongside Chantel Bailey's creeping vocals initiate ample momentum, built further upon the fuzzy lead-in to the pulsing guitar distortion at the one-minute turn. The "want to be alone," interlude shows a serene contrasts, enjoyably diving back into the rock-forward ferocity thereafter.
"red room" is another upcoming track from the album. Bailey's resonating vocals alternate seamlessly from the retrospective, brooding verses and anthemic "out of my head," chorus, fully rousing in its guitar/synth synergy throughout the final minute, especially.
Bailey and Matthew Blount started playing together in Seattle about six years ago, forming MARBLE. They elaborate further on the album's creative process, below:
"This record was recorded in several places over the course of ~1.5 years. We lived in Seattle before COVID hit and we started recording with Brandon Busch, our friend Tom's house, and our little underground space at Crybaby Studios in Seattle. In March 2020, everything went to shit and we couldn't even access our studio. We ended up moving to Portland and started learning about recording and production. This opened us up to start tracking in our basement while working remotely with our producer Jonah. This is when the record started taking shape. It was simultaneously the most rewarding and difficult experience we had faced as a band. It was unclear if or when live music would ever happen again and there were times when we would forget about why we were even making music. We are convinced that this particular set of circumstances are what led to the beauty of this record. We worked so damn hard to see these songs through and we are proud that we did."
The track was mixed by Brandon Eggleston (Wye Oak, Modest Mouse, The Mountain Goats, Dandy Warhols), produced by MARBLE & Jonah Cohen, and mastered by Ed Brooks (REM, Death Cab for Cutie, Minus the Bear, Fleet Foxes, Pearl Jam).
—
This track and others featured this month can be streamed on the updating Obscure Sound's 'Best of May 2022' Spotify playlist.