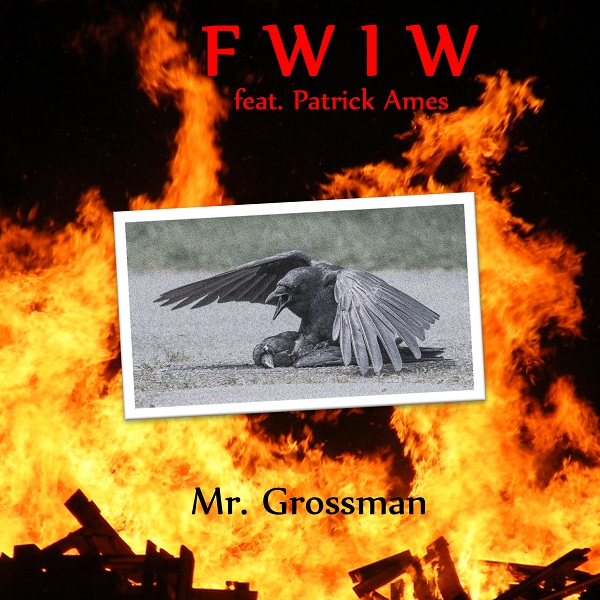 An intriguing collaboration from Mr. Grossman and Patrick Ames, the track "F.W.I.W." infuses prog-rock, dark jazz, and enjoyably eclectic experimentation. Echoing the anxiety and darkness of its thematic focus, the 2021 United States Capitol attack, Ames' lead vocals echo the depiction of "all those souls," lingering in confusion, with a late-night bass line and lingering backing organ.
The repeating refrain — "there's a man with a gun so you'd better beware," — resonates with an anxious pull alongside Ames' spontaneous vocal flow. "The best laid plans in an encrypted file, the best thing to do is to send you child away," the vocals remark, joining into the organ-laden "man with a gun," refrain with hypnotic, resonating results.
Mr. Grossman elaborates more on the track, below:
"The imagery came first – the dark signs, hidden threats to safety and against nature. Then realized this was coming from my ongoing concern about the rise of anti-liberal and overtly fascist movements. Musical elements came from decades of influences floating through – from 60's era anthems like Buffalo Springfield's For What It's Worth, Gill Scott-Heron's TRWNBT to Traffic in the 70's, to today's inspirations like Beck and Chelsea Wolfe. I had recently banked some home-grown percussion samples – sandpaper on concrete, and a suspended crowbar dropped onto said concrete – and these fit right into the feel of the track. I don't always like the way my singing fits with my compositions, so I enticed Patrick to do lead vocals, and this lent the necessary darkness and grittiness!"
—
This track and others featured this month can be streamed on the updating Obscure Sound's 'Best of April 2022' Spotify playlist.