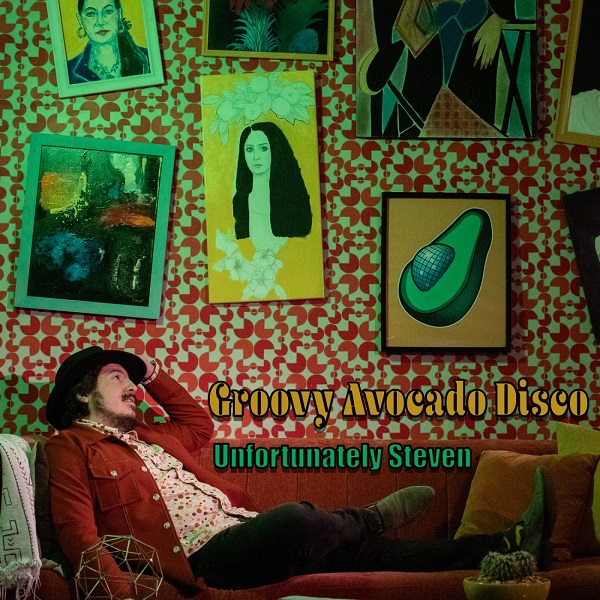 An album released today from Los Angeles-based artist Unfortunately Steven, Groovy Avocado Disco struts a theatrical rock sound amidst therapy session interludes.
"As a society, we tend to shy away from dark thoughts or depressed feelings but they are simply a part of the human condition," Steven explains. "Everyone deals with struggles and people who say they don't are living in denial. My goal for this album is to establish the harsh realities of mental illness, and what it's truly like in the mind of an anxiously depressed individual."
Wearing insecurities, fears, and regrets on his sleeves through the personal lyrical output, Unfortunately Steven embraces the human condition, for all its troubles and faults. The no-holding-back approach aligns beautifully with the vibrant rock approach, conjuring a vintage charm through brassy infusions, bouncy pianos, and fervent vocals; Harry Nilsson and Bryan Scary are nice points of comparison, stylistically, though Unfortunately Steven's sound is truly his own.
"The Art of Failure" is a riveting listen, and enjoyably representative of the album. "I could never do right," Steven sings amidst lively brass and pulsing piano, with off-the-charts charisma throughout. Sandwiched between two therapy sessions, focusing primarily on self-perception and worth, the track resonates with its sincerity. Similarly, the climactic guitars and organs on "Five in the Morning" impress throughout the track's dynamic song structure, reminding of Foxygen's nostalgic pull. "Cosmic Connection" is another standout, showcasing Steven's knack for beautiful ballads.
Stream Groovy Avocado Disco below:
Steven elaborates further on the album's concept:
"The concept of the album is a full therapy session from start to finish. From walking into the session a human balloon filled with crippling anxiety and depression, to leaving deflated and ready to take on the week. The album begins by walking into therapy, sitting down, and spilling the daily truth. The therapist guides the listener through these thoughts and grounds them through mindfulness. The album tackles the human condition, depression, drugs, addiction, capitalism and personal issues related to my father. As the album is experienced, the songs begin to empty and become more real, meaning that the listener, or myself, is expressing these heavy feelings and then becoming lighter by being honest with oneself."
—
"The Art of Failure" and other tracks featured this month can be streamed on the updating Obscure Sound's 'Best of May 2022' Spotify playlist.