Posted
June 3, 2022 by Mike Mineo
in Ambient
Betageist – 'Interference Patterns' EP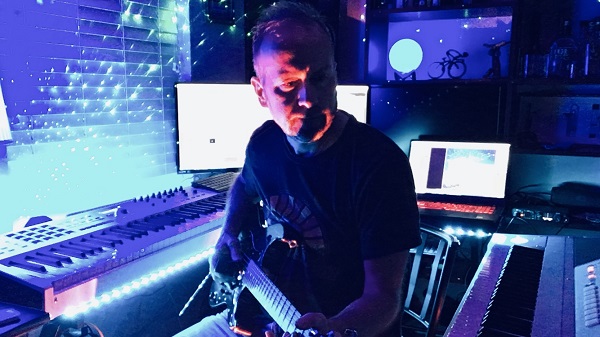 A grippingly atmospheric EP that blends ardent guitar tones with spacey synths, Interference Patterns comes via Betageist, the project of Indiana-based artist Kevin Heber. Feelings of mystique and wonder flow through the release, reflected in the namesake's idea, which refers to "the idea that our world is under constant influence from unreachable forces that shape our lives in profound but incomprehensible ways."
Gentle synth pulses concoct visions of an underwater oasis on the opening track "From the Beginning," setting an inviting scene. The gradual evolution of synth arps and atmospheric textures remind fondly of Boards of Canada and Tangerine Dream. The second half invigorates, with its powerful wordless vocals and shimmering expanse into concluding guitar work. "From the Beginning" provides consuming indication of what to anticipate throughout the riveting EP.
Trickling guitars and lushly haunting vocal effects linger throughout the moving "Our Ghosts Will Walk Here." The dramatic washes of vocals resonate alongside the synergy of guitars and keys, the latter assuming further prominence throughout the second half. Guitars and synths play prominent roles throughout the EP, and the piano work also compels on tracks like this and the vibrant closer "Broken For You," which caps off this stellar EP in satiating form.
Stream the Interference Patterns EP, below:
Heber elaborates further on the album's themes and concepts:
"INTERFERENCE PATTERNS (EP, 2022) refers to the idea that our world is under constant influence from unreachable forces that shape our lives in profound but incomprehensible ways. A famous scientific example is found in the double-slit interference pattern experiment, which exposes the nature of quantum mechanics and hints at the existence of infinite parallel universes. The concept seems to scale upward to what we experience as paradoxes between reality and consciousness or improbable turns of fate. The album cover art, realized by Lumii Design, attempts to illustrate this concept literally and metaphorically. The style is a nod to the gorgeous concept art we stared at while listening to ever more mind-bending LP's from the late 60's through mid-80's as technology and art became inextricably entangled."
—
"From the Beginning" and other tracks featured this month can be streamed on the updating Obscure Sound's 'Best of June 2022' Spotify playlist.