Posted
June 16, 2022 by Mike Mineo
in Americana
full catholic – "traveling song" + "orbits"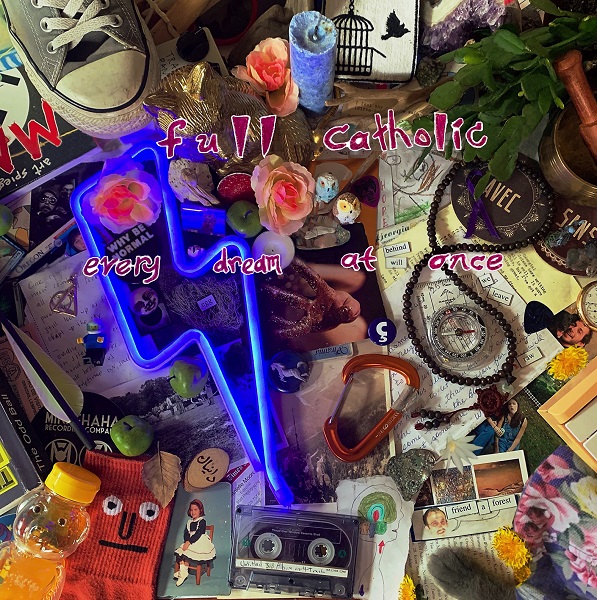 Producing a heartfelt sound that traverses across poetic Americana, intimate folk, and rousing rock, full catholic are a four-piece hailing from the Twin Cities. Their debut LP, every dream at once, is a stirring collection of songwriting and escalating stylistic cohesion.
In describing the album, vocalist/bassist Dani Michaele says: "This album is composed from our various lives, loves, the good and bad, events planned and unplanned, a diary of rage and terror at what humans are capable of, the proceeding existential quandaries, records of our own resuscitations, and the life-saving awe of unexpected hope and reawakening."
The band cites a few albums as being influential on the album's recording style: Rolling Stones' Exile on Main Street, Deerhunter's Microcastle, and Songs: Ohia's Didn't it Rain — all sharing the success of capturing a moment in time with spontaneity, chemistry, and apt energy. 'every dream at once was recorded live, with the band in a single space together. The result is one of natural, emotively genuine beauty.
Among the numerous highlights on full catholic's every dream at once, the gripping "traveling song" is described by the band as "an all-encompassing love song, a sweeping portrayal of Americana, self-discovery, hope, and wanderlust." Michaele's vocals start: "I don't like you calling me baby," leading to emotive lines like "your light is overwhelming me," amidst questions like "aren't we all hoping for that?" A guitar-fronted rise, just prior to the two-minute turn, plays poignantly amidst feelings of seemingly endless pursuits.
Strutting a more immediately rock-forward sound with an enjoyably twangy suaveness, "orbits" is another success, reflecting the "the turbulent texture of a longterm relationship and the mystery that endures between two people despite the passage of time." Both these tracks nicely represent the album's stirring songwriting and audible chemistry throughout.
Stream these tracks and the album, below:
—
"traveling song" and other tracks featured this month can be streamed on the updating Obscure Sound's 'Best of June 2022' Spotify playlist.