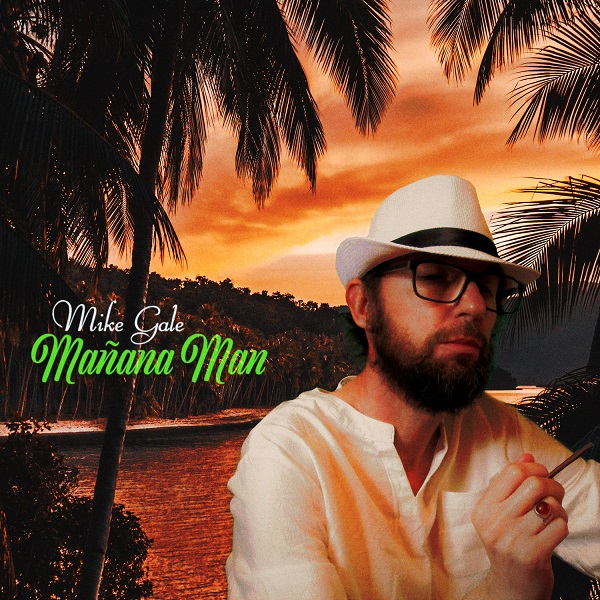 Strutting an immersive and lush sound with dreamy rock, pop, and folk aspects, Mañana Man is a new album from Mike Gale, an artist from Southampton, UK. The release would feel fitting as the soundtrack to a tropical getaway, heavy on retrospection though also luxurious vibes.
"Pumpkin Feet" is an inviting opener. Acoustic pulses and a slight string-laden backing complement Gale's vibrant vocal presence, building to percussive additions and playful keys. The vocals ascend to mesmerizing, dreamy heights during the "it's a dream," refrain; this section puts Gale's memorably hooky songwriting, and knack for clever melodic shifts, on display.
The album conveys a breezy, charming demeanor throughout, starting with "Pumpkin Feet" and never letting up. Highlights are numerous. "I'm Really Gone" channels with a sophisti-pop charm with its jazzy bass line and clanging piano, adorning lovely vocal harmonizing. "How Long' exudes an orchestral-friendly lushness, caressing into a late-night enamoring with the synth textures and swooning vocals. The twinkling "Cosmic String" is another delight, playing like a lullaby to paradise, or a slice of city-pop escapism.
Gale's discography over the past 20 years is prolific, across various aliases — Black Nielson, Co-pilgrim, and now solo. Mañana Man represents his 18th album, following up last year's highly praised Twin Spirit.
"Twin Spirit was the first album I'd used samples almost exclusively, from the writing process to arrangement of the songs," Gale explains. "I really enjoyed this way of working and wanted to carry it on with Mañana Man. Twin Spirit was rather haphazard and more like a collage of sounds in places, so with Mañana Man I was trying to make an album of more traditional sounding pop songs while still utilising samples as the primary method of creating."
This album and others in his impressive discography can be heard on Bandcamp.
Stream Mañana Man, below:
—
"Pumpkin Feet" and other tracks featured this month can be streamed on the updating Obscure Sound's 'Best of June 2022' Spotify playlist.