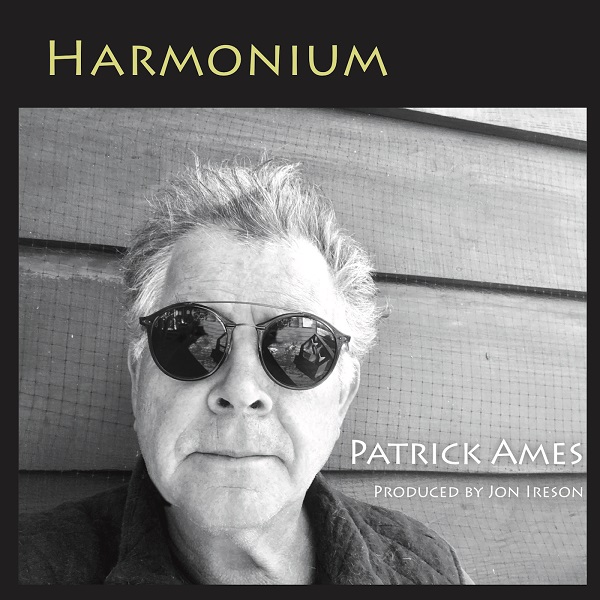 Harmonium is the newly released album from Patrick Ames, recorded in the artist's home vineyard. Such a recording setting would suggest bright and bouncy escapism, though this treat of an album offers something else. Throughout the album's seven tracks, stark observations on life and progress engross amidst a dark rock and folk sound.
The opener, "No People Are Supreme," is one of Ames' most haunting works to date. The acoustic strums and sporadic guitar trickles combine with ominous vocals for a spell-inducing effect. The organ-laden emergence amidst the dual-vocal haunts resonate thoroughly, the tender guitar tones emerging past the 01:30 mark reminding fondly of Nick Cave's later works. "Keeps us from being free," Ames sings, referencing the divisions embedded within that stymy progress, eloquently leading into the title-referencing refrain.
The poetic "Is It Okay to Complain" fuses jazzy rhythms with a laid-back folk sound; its retrospective, grim lyrics captivate. "It's a story of two people, and the story line uses repetition of key words and ideas, that change stanza by stanza, such as 'the Fates' and the reprise of 'Look at you now,'" Ames says. Even while not the most poetic song on the album, "DontChaWanna" also stands out for its immediacy and relatable pull. "Don't you wanna," Ames repeats, "quit your job." The track captures the mundanity and frustration with being stuck driving to work, every day, without a seeming change.
Stream Harmonium in full, below:
—
"No People Are Supreme" and other tracks featured this month can be streamed on the updating Obscure Sound's 'Best of June 2022' Spotify playlist.