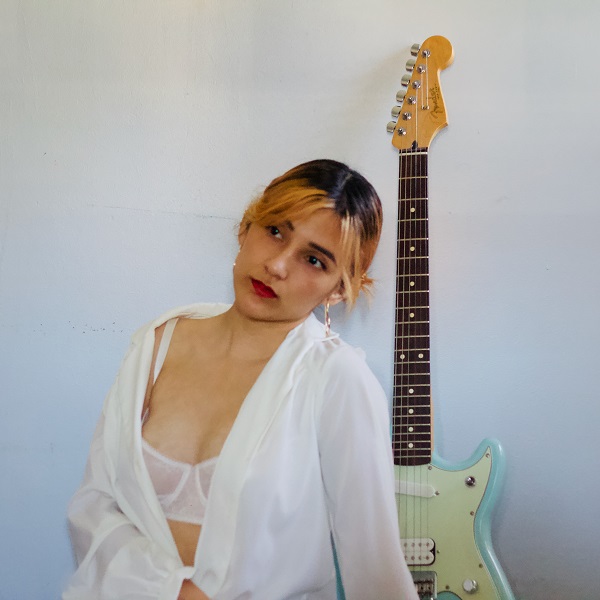 "Space QT" is a hooky, spacey pop success from Los Angeles-based duo Pink Fruit. The track comes via their upcoming EP, Day Dreams We Had. "The song is about space, love, and toxic relationships," Pink Fruit says. "It's about two lovers that know it's ending but want to relive the relationship for one last night."
The duo of Ash Garcia and Dane Rivera met prior to the pandemic, while playing house shows in different bands. They fell in love and started making music throughout lockdown, culminating in a series of excellent singles, including "Girl of Your Dreams" and "I Hate When You're Around."
"Space QT" plays with an excitable sense of escapism — "you want to go far from here," — amidst futuristic-sounding synths and lush, dreamy sequences. "Make your wish come alive, if only just for the night, I'm falling for you," Garcia sings during an especially melodic rise, capped by playful synth-laden prancing past the three-minute turn. The track takes amiable inspiration from PC music, the anime Ranma ½, and artists like Charli XCX, Magdalena Bay, and Tears for Fears — fusing pop accessibility with spacey atmospheric intrigue.
Written and recorded by Garcia and Rivera, "Space QT" was also produced, mixed, and mastered by Rivera, whose designing of synth patches from scratch — across a variety of vintage and modern hardware synthesizers — contributes enjoyably to the track's atmospheric, inventive pop sound.
—
This track and others featured this month can be streamed on the updating Obscure Sound's 'Best of June 2022' Spotify playlist.
The track is also featured in the genre-based, best-of Spotify compilation Emerging Indie Pop.