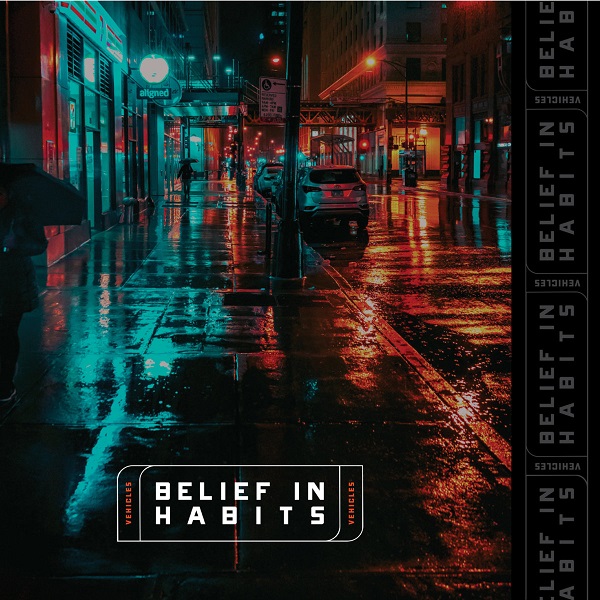 Touting a moody and emotive rock sound reminiscent of The Killers and Editors, Belief in Habits is an album released today from VEHICLES, a band from Wichita, Kansas. Belief in Habits represents their fifth full-length since formed in 2006. The project was formed from the ethos that "songs are the vehicles that bring musicians, friends and family together," — and the band's apt audible chemistry and stylistic focus makes the name a fitting one.
Their first album since the pandemic, Belief in Habits emits feelings of isolation, yearning, and observation following loss. "You know you're changing, you taste the cost, I believe in habits when you don't know the loss," Cody Cloud sings on "Fighter Jet," the melodic bass line and suave vocals reminding fondly of Deacon Blue.
"Fighter Jet" satiates in its rise to invigorating rock guitars and a synth-laden shimmer in the background, enjoyably representative of the album's tendency for lyrically thoughtful tracks — here pointing to full appreciation not quite arising until after a loss — that swell from rhythmic contemplation to gripping rock-forward fervency.
The band also excels in its more gradually developing, synth-friendly successes. "Brooklyn" initially plays in the vein of early '00s NYC indie rock; the synth/guitar interplay exudes a Strokes-esque appeal. The passionate chorus injects a natural rise, commenting on how certain decisions are irreversible amidst glistening synth additions.
Captivating throughout its 6+ minutes, "Devil in the Room" is another standout. The hypnotic guitar tones and bouncy synths build with consuming qualities throughout, into a second half with sweltering guitar tones. This track and the briskly emotive "Eye Que" serve as ideal closers to the wholly satisfying album from VEHICLES.
VEHICLES is comprised of lead singer/guitarist Cody Cloud, guitarist/vocalist Isaac Pearson, bassist Tony Hull, keyboardist Cale Gubitz, and drummer Thayne Coleman.
Stream Belief in Habits, below:
—
"Sirens" and other tracks featured this month can be streamed on the updating Obscure Sound's 'Best of June 2022' Spotify playlist.