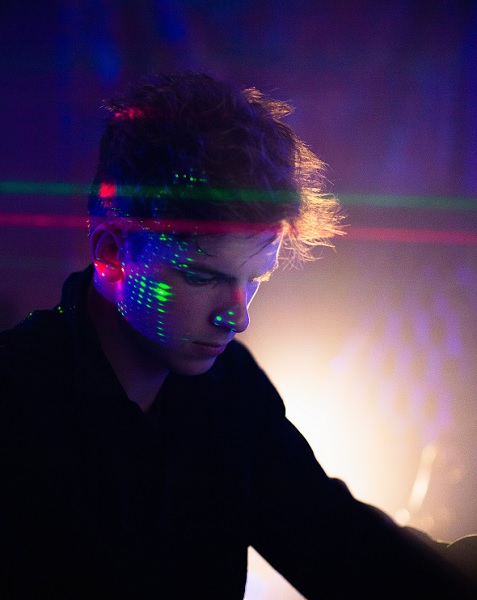 "TERRIBLE THINGS" consumes with its spacey, lush pop charm. Avonlea's serene vocal entrancement guides seamlessly amidst the sounds of producer/songwriter 7KY.
Originally from Yakima, Washington, 7KY has been making music since he was 12. The 22-year-old producer, composer, and singer-songwriter shows an evident talent in crafting atmospheric, hooky productions, wholly cinematic and romantic in its sweeping charm.
Released via indie record label Good Society, "TERRIBLE THINGS" compels in its capturing of two free-spirited people and a magical night — "having the most celestial one night stand of their lives." The gentle synths and interchanging vocals soothe initially, as buzzing synths guide into an effervescently gorgeous hook — "you could be the one right now." "TERRIBLE THINGS" captures the starry-eyed allure of meeting someone truly special.
7KY elaborates further on the story behind the track:
"This song sort of started out as a joke between me and my co-writer Bret Martin. We are constantly bouncing lyrics back and forth to each other as we go about our days, and one day he sent me a text that said "Nice to meet you, I've heard terrible things."

I love lyrics that make me tilt my head, but at first I didn't know if I liked it. I spent some time repeating and imagining it in a song, to which in a couple hours I came to the conclusion that it was a genius line.

When we got together I spent a few hours trying different instrumentals for the lyric. I then came across my most recent beat and as soon as I hit play we looked at each other and something clicked, the song seemed to write itself in an hour from there – almost like it was just waiting to be found.

This was our fastest writing session ever and within 2 hours I had the whole thing recorded ready to show Avonlea for her part. The next day I played her the song, she loved it, recorded her part and knocked it out in 30 minutes."
He further notes the influence of Hawthorne's The Scarlet Letter:
There is a pinnacle lyric to which this song stems from saying "our Scarlett letters intertwined."

In Nathaniel Hawthornes book "The Scarlet Letter," the protagonist battles to regain dignity in a puritanical society where she is branded for all to see and shamed for her sexual indiscretions, yet the protagonists in Terrible Things aren't bound by such stigma as they are two of a kind who have sex and loves in their life that seldom last beyond the one-night-stand.

They are the ones who others openly scorn yet secretly desire. They meet and see themselves in each other immediately and if their reputations had preceded them, they would have felt an even closer bond because they simply want pleasure without chains.

They're fine with doing terrible things with each-other to never reconnect again – as no attachment is needed for either of them because in their eyes, sex is to be enjoyed without strings.
—
This track and others featured this month can be streamed on the updating Obscure Sound's 'Best of July 2022' Spotify playlist.
The track is also featured in the genre-based, best-of Spotify compilation Emerging Indie Pop.