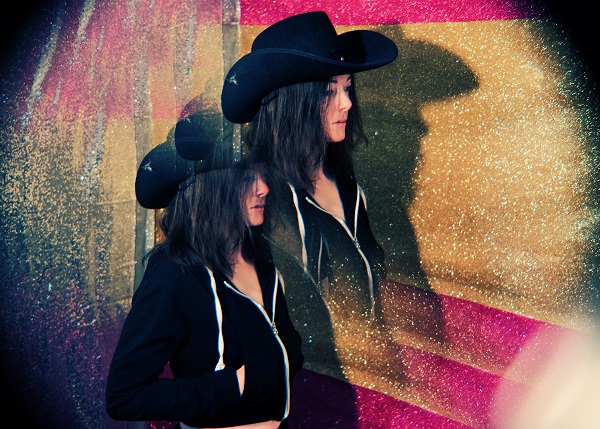 Spanning from lush dream-pop to textured alt-rock, Big Grey Sun #4 is the stellar new album from Los Angeles-based artist Death Hags. The project of Lola G., Death Hags is in the midst of a seven-album project called BIG GREY SUN. Such an ambitious project would be daunting for many artists, in fear of over-repetition, but this will assuredly not be the case for Death Hags; the project's style-hopping approach makes for a constantly engaging sound.
The BIG GREY SUN concept arose in December 2019, after Lola endured two days of hallucinations following a dog bite. The project was already prominent prior to this, touring North America and Europe, in addition to performing at festivals such as SXSW, Pop Montreal and Night Owl Fest. Since then, the releases have exemplified enthralling audible experimentation, while still valuing melodic charm and thematic inventiveness. The previous release, Big Grey Sun #3, was featured in Bandcamp Daily. Big Grey Sun #4 is poised to continue that success.
In "trying to make sense of sorrow while dreaming of other worlds," the theme of Big Grey Sun #4 plays aptly amidst ethereal beauty. "Teleport Now" is a standout, in particular. Spacey synth frequencies and a bass-y backing warmness complement a laid-back count-up, reminiscent of Black Box Recorder. Added synth effervescence around the one-minute turn plays with a hooky entrancement. "Teleport Now" is is a lovely dream-pop success, as is "Star Operator." "Spiral" is another standout, though in a different stylistic vein, successfully adopting a shoegaze-y rock envelopment.
Death Hags is also working on the film score and a book soundtrack for James Greer's novel Bad Eminence.
Stream Big Grey Sun #4, below:
—
"Teleport Now" and other tracks featured this month can be streamed on the updating Obscure Sound's 'Best of July 2022' Spotify playlist.