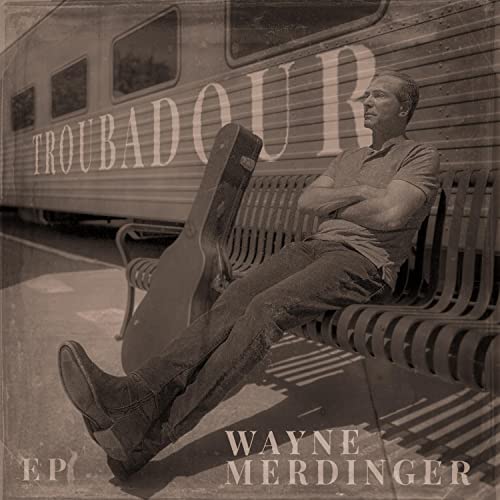 We chat with singer/songwriter Wayne Merdinger, whose new Troubadour EP takes inspiration from his captivating '70s origin story.
Your Troubadour EP is a showcase in excellent, timeless songwriting with rich narrative appeal. With three albums and six singles released since 2016 before it, what inspired this particular EP?
First, let me express my sincere appreciation to Obscure Sound for your kind words and for giving me the opportunity to answer these questions on your esteemed forum. As an artist living in virtual obscurity, it is always appreciated when folks take the time to listen to my material, and even more so when they express interest in my "story."
Before "Troubadour" came about, I was not actually planning an album or EP release. Since my first three albums, I've grown accustomed to releasing singles as I create them. In this case, I had written "Waiting For the Love" as a tribute to the plight of the Ukrainian people and had planned on releasing it as a single until I hit one of those rare and mystical sparks of creativity that had me crafting several songs over just a few weeks. Suddenly, I had six songs that I felt great about and thus decided to record the EP.
The EP's self-titled track presents an autobiographical perspective. What does this particular track express about yourself?
My goal here was to present myself as a writer in the past tense. After all, at my age, I could become past tense at any time and I wanted listeners to be able to reminisce about me, as my words and music live on in perpetuity. The line, "He was a troubadour in disguise" captures the very real feeling of surprise that so often gets conveyed to me when people in my business circles learn that, in addition to running a multi-national company, I am a published singer/songwriter. This title track revisits sentiments I wrote about earlier in the songs, "Behold the Invisible Man" and "Jekyll and Hyde," where I talked about having lots to say to the world if only people would listen, while essentially living two separate lives, as both a businessman and a recording artist.
"Troubadour" accurately describes my constant search for perfection in everything I write. Whether drafting a business letter or composing a song, I always strive to present the very best I have to offer and thus am rarely truly satisfied right up until the final product is published. Even then, I often look back and say, "I could've said that better."
You went on a private tour of Abbey Road studios in 2014, recording the track "I'll Never Believe You Again." What was the experience like, recording a song where so many greats have before?
First, let me set the record straight here… I have never recorded at Abbey Road Studios. "I'll Never Believe You Again" was recorded in a Hollywood studio. My visit to Abbey Road was a fortuitous and surreal experience that came about when a close friend and business associate, who happened to know Colette Barber, the Studio Manager there for over 36 years, invited me to accompany him on a studio tour over a 2-day period. While I would have loved to record there, my visit was purely a chance to explore the hallowed ground where music royalty worked magic and made history. The studio, of course, is closed to the public and so the opportunity of not only gaining access, but being hosted there by Colette, was the chance of a lifetime. As somebody who idolizes The Beatles, the feeling of standing in Studio 2, where most of their music was recorded, was indescribably emotional. Still, I did attempt to relate the whole experience in my 2017 song, "Abbey Road," which obviously was inspired by that visit.
The track "The Train Song (I Saw You)" is originally from the overlooked band Nebraska Bay, who you befriended in the '70s. What was the experience like bringing this track back to life, and reconnecting with one of the band's members thereafter?
Carl Wilkenfeld was the leader of Nebraska Bay and the one I became closest to back in the '70s. Though I lost touch with him before I finished high school, "The Train Song (I Saw you) stuck in my head for over 50 years. I didn't remember all of it, so when I decided to record it for "Troubadour," I had to write three additional versus as well as a bridge. I had been searching for Carl on and off for decades, always to no avail. He seemed to have faded into oblivion. Now, however, I was getting ready to publish a song that he had surely co-written, and I felt compelled to do my best to locate him. Finally, I was able to reach him through his stepdaughter (she's the "Rachel" in the song, "Nebraska Bay"). Carl didn't remember me at first, but when I was able to describe, in full detail, all of my memories about him, his family, and his band, his recall slowly returned. We literally spent hours on the phone reminiscing and, as he put it, "it feels like we've known each other for years." He was absolutely delighted to learn that I was gong to release this song, though he too could not remember the whole thing. He was thrilled that I had finished it and that I would be publishing it as a co-written piece.
Once I decided to record "The Train Song…," I felt compelled to tell my story about this band I had stumbled upon as a child. Thus, the concept for the song, "Nebraska Bay" was born. When I reconnected with Carl, I told him that I had written a song about him. I had remembered that one of the names he was considering for his band was Nebraska Bay, but I wasn't sure if that was the name they ultimately settled on. When he confirmed that it was, I said, "that's good because that's the name of the song I wrote about you."
Do you have a specific process or ritual when creating new music?
With the possible exception of Elton John, I think most songwriters would say that there is not necessarily one process that works for all material. It could be a piano or guitar riff that sparks an idea, a particular phrase, or, in many cases, the phrase and the tune just pop into my head together. Sometimes, when I only have that first riff, it is the mood of the music that guides me to the subject of the song. In a few very rare cases, I have written the words first but, hats off to Elton…. That is not easy! For me, the hardest part of songwriting is coming up with the subject matter. Once I know the topic I am writing about, the initial lyrics come relatively easily. I say "initial" because the lyrics of my finished product rarely resemble the earlier iterations. Getting the lyrics right is an obsession when I am composing. I keep an iPad next to my bed and, much to my wife's chagrin, I'm often editing lyrics in the middle of the night. It is not uncommon for me to change a word or two, or even a whole line, just before I go into the vocal booth in the studio. It has to be right!
Any favorite artists or albums you're listening to at the moment?
All of my inspiration comes from the legendary artists of the '60s and '70s, and I would still rather listen to The Beatles, The Stones, Elton John, Bob Dylan, Carole King, Crosby, Stills, Nash & Young, The Byrds, Bruce Springsteen, Simon & Garfunkel, Bryan Adams, James Taylor, Billy Joel, Gordon Lightfoot, Dan Fogelberg, Jim Croce, Harry Chapin, Brian Wilson, Yusef Cat Stevens, Jackson Browne, The Eagles, America, Bread, Jethro Tull, Pink Floyd, The Who, The Guess Who, and most of the British Invasion than much of the music being produced today. That's enough inspiration for anybody (though I'm certain I omitted some), and I actually mentioned a few of them in my 2018 song, "Walking On Water." Nevertheless, music from the "Troubadour" EP has reached significantly more Spotify playlists than any of my previous releases, and, through these playlists, I'm becoming exposed to more contemporary material that I am finding quite appealing. My wife would tell you that I am completely stuck in the '60s and '70s but, as of late, I feel as if I'm starting to broaden my horizons.
If you could collaborate with any artist, alive or dead, who would it be?
There are so many legendary artists that I would've loved to have met and worked with, had I realized my passion for making music at a much earlier age. Of course, John Lennon would be the ultimate for me. The lyrics of my single release, "Stranger" tell of a dream I had of John paying me a visit, and I think it fully captures my sentiment. Bernie Taupin would be another master of his craft whom I would have enjoyed collaborating with. I'm not sure Bernie gets enough credit for being the source of the words behind Elton John's colossal success, but his ability to combine obscurity and metaphor with relevant messaging has been a great inspiration for my songwriting.
What do you find is the most satisfying part of being an artist?
There is no feeling in the world like going into the recording studio with a raw, original song, and seeing it come to life through expert production, professional musicianship, and collective energy. I record my demos alone in my home studio, but when the session players come together in the professional studio to take my creations to the next level, it is an astoundingly satisfying experience every time.
What is the biggest challenge you find in today's music industry?
Artists have it very tough today! Record deals are hard to come by, there's very little money to be made through streaming unless you go viral, home studios have perpetuated more competition than ever, and the dynamics of the industry have made it very difficult for those trying to make a living doing what they love. I am very fortunate to have a successful business career such that music is not my livelihood. I see so many struggling but very talented artists that are trying to follow their dreams and barely making ends meet. My advice would be to never give up on that dream, but to always have a "Plan B" because the music business provides a comfortable living for only a very select few. My only real exposure comes through the streaming services like Spotify, etc., and it's very difficult to reach critical mass on those platforms. I think I'm about to surpass 100,000 Spotify streams in total, but my music is still not finding its way onto the platform's editorial playlists which I believe is necessary in order to get to the next level. I don't know what the threshold is to reach that milestone, but I hope I live to find out.
What's upcoming for the project?
If you're asking about the "Troubadour" EP project specifically, the reviews have been fantastic and plentiful, and the EP is streaming quite well all over the world. My hope is for that to continue and for the release to achieve more critical acclaim. In the meantime, I have already started work on my next release, with four songs ready to record. My recent work on Carl Wilkenfeld's song inspired me to resurrect another prior relationship, this one from back in the '90s, with a British artist/producer/songwriter, and I will be recording several tracks that he either wrote or co-wrote but were never released. They're terrific songs that never saw the light of day and I intend to bring them to life later this year. Aside from that, the only item remaining on my "bucket list" is to experience the thrill of performing my own material, with a band, on stage, in front of an attentive audience. I have had the pleasure of playing a few solo gigs at smaller venues but the thought of playing a live concert with a great band behind me is a fantasy I would love to someday live out.