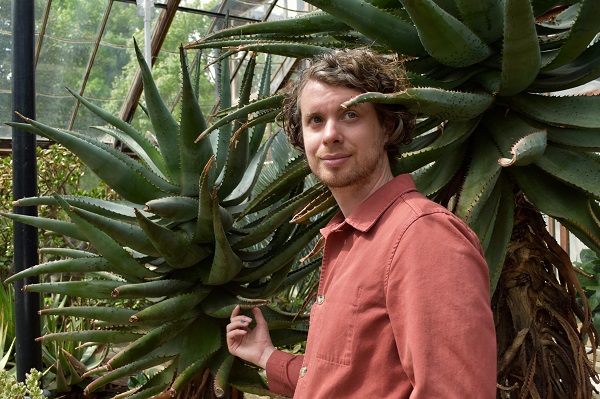 Yearning for Vitalists is the sophomore album from The Birthday Letters, the project of Joseph Hughes, a singer/songwriter originally from Shropshire and now based in London. The consuming sound spans from contemplative folk to vibrant jangle-pop and alternative — thematically "inspired by the everlasting wonder of our planet and questioning everything along the way," per Hughes, whose album creative process was catalyzed by a trip to the zoo, where he pondered whether animals have souls.
The album's opening, self-titled track is exemplary of Hughes' poetic lyrical prowess and knack for interesting structural development. Trickling acoustics build steadily amidst Hughes' commentary on life, animalistic drives, and the generally large scope of existence. "I'm an easy fool, I'm not chasing the truth," he comments, the vocal resonance and jagged guitars reminding fondly of Destroyer.
The more vibrant, shimmering tracks play with approachable glee. "The Baby Was Born In The Moss" swells from quaint acoustics into jangly rock charm. "Botanising The Asphalt" is a hazier, lusher showing, fully enchanting in its rise to more moody jangle-pop glistening. Key-laden effervescence in the second half plays with a replay-inducing pull amidst the crisp guitar jangles and feedback.
Hughes' project has impressed with a multitude of tracks in the past, ranging from 2017's "Lesser Evil" to this year's "The Baby Was Born In The Moss." Yearning for Vitalists plays like a natural culmination of Hughes' songwriting talents and stylistic developments over the years.
Stream Yearning for Vitalists, below:
—
"Botanising The Asphalt" and other tracks featured this month can be streamed on the updating Obscure Sound's 'Best of July 2022' Spotify playlist.