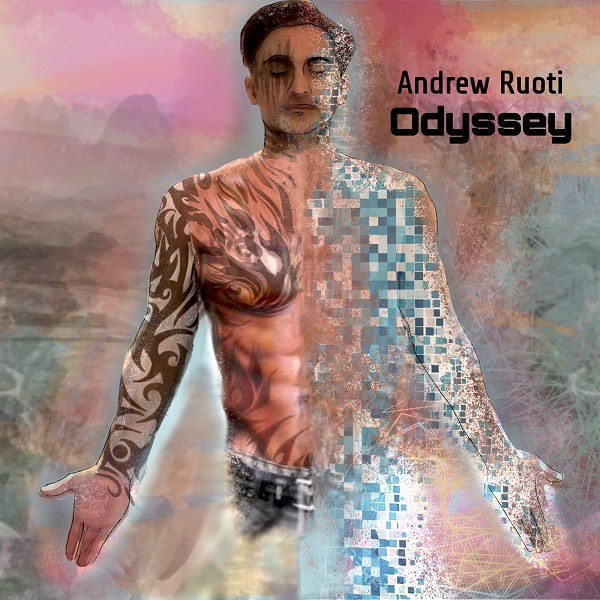 Odyssey is a 5-track concept album from New York-based artist Andrew Ruoti. Featuring production from two-time Emmy award winning producer Uly Millan, Odyssey presents an eclectic stylistic sound, ranging from the spacey ambience of opening "State of the World" to the flickering guitar-laden momentum of "Trials and Tribulations" and anthemic rock-forward ferocity of "Deconstruct."
A meditation teacher as well as a multi-instrumentalist, Ruoti's grasp of spacious soundscapes with cinematic appeal is evident on numerous tracks, especially the album's book-ends. "State of the World" struts meditative vocal effects amidst a lingering string-laden whimper, gradually accompanied by ominous vocal layer additions and more pulsing strings. The momentum builds, though the track does more in establishing a memorable atmospheric tone rather than departing substantially with variation in mind.
"When this world is not enough, I'm a have to deconstruct, start over," Ruoti croons on the livelier "Deconstruct," the vocals alternating seamlessly between emotive contemplation and raucous rises. The ceaseless guitar-led energy and vibrant rhythm section pairs with the riveting vocal work for an exciting result, representing the album's briskest effort alongside "Special Day," touting a more folk-forward shimmer.
The engrossing album releases alongside five original paintings by Shelly Luan and digital art editor William S. Pierce. We chatted about that concept, of each painting representing an album track, and more, in our interview with Ruoti.
Stream the entirety of Odyssey, below:
A snippet from the interview, elaborating on the album's inspirations:
"…at the end of 2019 I shared with a friend that I felt the world was spinning so fast it was headed off its axis. How disconnected we've become overall and how reliant we are to our electronic devices….what we do to one another and our environment was leading to something unpredictable and dangerous. This was the impetus for writing Odyssey."
—
"State of the World" and other tracks featured this month can be streamed on the updating Obscure Sound's 'Best of August 2022' Spotify playlist.