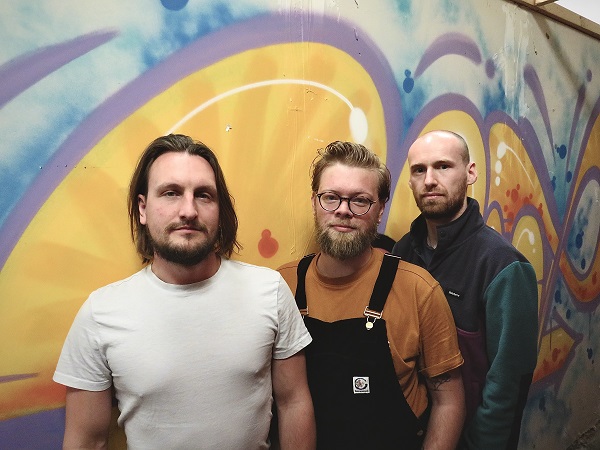 "Milktooth" is a new track from National Service, comprising a trio of friends from North East London, who formed the band in 2015. Lyrically, the track speaks to "the feeling of being lost when growing up," — propelled by lyrics such as "mothers' milk ain't gonna help me now, cause I wake up every day and I'm alone."
Vibrant percussion and atmospheric guitar hints drive into the vocals, initially serene amidst a post-punk feeling in the rhythmic backbone. The vocals gradually rise with intensity, culminating past the one-minute mark with the stellar "out of my mind," hook, marked by enthusiastic guitar twangs. The aforementioned "mothers' milk," lyrical sequence follows; the vocals here assume a fierce tone, with added guitar tones injecting during the "youth is wasted," drive. "Milktooth" is a wholly invigorating, emotively impactful rocker from National Service.
The band elaborate further on the track:
"Milktooth was the first in a rush of songs written after I was signed off on mental health leave from my job as a teacher. Sometimes songs need teased out and cajoled into existence but Milktooth came forth with the force of something that needed to be said. It was more or less the finished form within a day, which rarely happens. I think the chorus lyric is pretty self-explanatory and when I took it to the band to deconstruct and reconstruct it, there was a clear sense that we all resonated with the themes in some manner. It totally epitomises that time in my memory – whenever I listen to it, I'm drawn back to days staring at the wall wondering what to do with my life. It manages to encapsulate that inner storm perfectly – at times it's aggressive and tenacious at other points it's subdued and reflective. What's more, is that when we made the decision to record and mix it all ourselves (mainly due to financial circumstances) it became a testament to the learning journey we'd been on as a band. I think artists tend to shy away from these things for fear of coming across as arrogant or uncool, but for what it's worth, I think it's an absolute quality song; one which we're all very proud of."
—
This track and others featured this month can be streamed on the updating Obscure Sound's 'Best of August 2022' Spotify playlist.