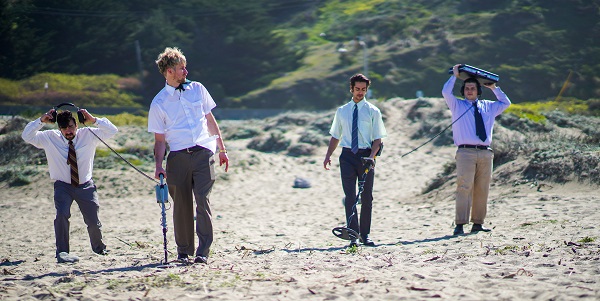 Conjuring a dynamic rock sound with a passionate vein of nostalgia, "NET POSITIVE" is a new track from The Band Ice Cream, a Los Angeles-based project led by Kevin Fielding. The track also features Blushh.
The Band Ice Cream will be releasing their new album, PLAY DEAD, on September 19th, of which "NET POSITIVE" is a part.
"I think the reaper might forgive me this time, he knows I've waited patiently in line," the expressive vocals let out in the first minute. The subsequent "everyone eventually bleeds," bridge melds into the delectable chorus. The wordless vocal backing and warming guitar distortion combine with a hooky vocal lead for a soaring, replay-inducing invigoration, reminiscent of The Silver Jews and Pavement. Nostalgic sounds of internet dial-up follow shortly thereafter, adding further to the track's compelling '90s alt-rock nostalgia.
"NET POSITIVE" is exemplary of The Band Ice Cream's stellar songwriting and knack for multiple hooks. I'm definitely anticipating the forthcoming PLAY DEAD.
—
This track and others featured this month can be streamed on the updating Obscure Sound's 'Best of August 2022' Spotify playlist.