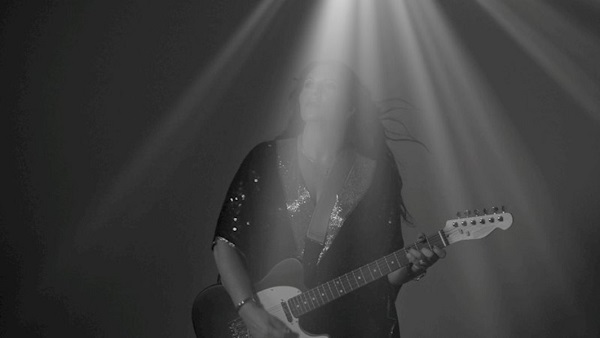 We chat with Los Angeles-based artist Bel-la, recently featured with the track "Nothing's Gonna Get You Back," touting a folk-friendly intimacy evolving into a more rock-forward sound.
Your new single "Nothing's Gonna Get You Back" consumes with its lush rock sound, the lyrical yearning and retrospection really hooking. Lines like "you're just a memory in my mind," speaks to a real sense of loss. What inspired the track's themes and general stylistic direction?
I have gone through a real period of loss over a couple of years and to get through it had done a lot of reflection. I couldn't get over how strong our memories are and when you have been really close to someone who leaves your life it's crazy how their essence can really live on for us.
To answer the question more specifically and personally some of the losses I experienced that I've had to dig deep to get through were the loss of my first baby at full term, a close friend killed by a drunk driver, a pet being taken out by a coyote and a marriage unravelling. Nothing's Gonna get you back seemed to encompass everything and was one of those songs that just wrote itself really quickly.
The track was released via Dame Dash's BLUROC Records. How did you meet and start collaborating with Damon?
I met Dame Dash in a very random way. We had both been involved separately in a film project during the pandemic and through that I ended up at his studio one day. There were musicians there but nobody on guitar, I asked if I could jam and it went from there. Every week at the studio they would hold a BLUROC instagram live night and many of the artists would come together to jam. I loved going there to play guitar and play my own songs. The funny thing was once I played 'Nothing's Gonna Get You back" rapper Hassan would start dancing and smiling and every time wouldn't let me leave without playing it. From the get go Dame was saying I needed to make a record. Then at the start of the year when it seemed like we were at the tail end of the pandemic he had a big meeting at the studio which was like a motivational speech for accountability as an artist and taking action for yourself. Dame had previously introduced me to The Black Guns official guitarist Tash Neil and said we should work together. So, I got motivated with Tash in the producer seat and this is the first result.
The music video for "Nothing's Gonna Get You Back" is a stylish success, the sights spanning from sunny beaches to starry night skies. What was the video's creative process like?
Thank you ! I directed and conceptualized the video myself. The two inspirations that I kept gravitating towards were old school iconic black and white rock photography of Jimi Hendrix and The Rolling Stones in particular and super abstract surreal silhouetted imagery along the line of the movie La La Land. To me this imagery expressed the expanse of our universe and feeling that we humans are all a part of nature, and our losses are a part of nature.
At the end of March I went to New Zealand for my Dad's birthday. The New Zealand borders were still closed due to it's covid-19 protocols and many popular tourist spots were incredibly empty and they looked surreal without any visual effects! I have wonderful friends who live in stunning parts of the country, many whom work in the New Zealand film industry and together we were able to film in these locations that were totally devoid of people.
You're originally from New Zealand. Do you return often, or perform music, back in New Zealand?
I am originally from New Zealand and had not been back since 2020. I do try to go every year. I haven't performed there for a while but would like to.
Do you have a specific process or ritual when creating new music?
For the most part I like to write songs on the guitar.. I like to catch a vibe and see where it goes, I can't force a song, it's either there or it's not. One time I wrote an entire song in a dream, and woke up at 4 in the morning to record it and the chords and everything were exactly how I dreamed it.
Any favorite artists or albums you're listening to at the moment?
I listen to a lot of different genres of music, but most played in the past couple of months are, Wolfe Alice Blue Lullaby EP, Arcade Fire WE, Ye Donda,
Billie Eilish London Grammar, The Driver Era, LAB, Black Dub, Mark Ronson, SBTRKT, Bowie, M83, The Black Guns.
If you could collaborate with any artist, alive or dead, who would it be?
Mark Ronson, DJ Shadow, Nick Cave, Massive Attack, Drake,
Miles Davis, a duet with Jonny Cash or David Bowie.
Lady Gaga lived across the road from me for a few years and I'd always thought it would have been great to collaborate with her but we never did meet.
What do you find is the most satisfying part of being an artist?
For me the most satisfying aspect is the process of creating. I just love to create, to write and explore new ideas. I love to catch a vibe and sail on it. I love to play with people and to feel that energy when you are all locked into the music together and it takes you higher. Also, to have a creative avenue to express yourself is something I really value.
What is the biggest challenge you find in today's music industry?
This is a really tough question but I would say that social media has been a game changer in the sense of how random it can be. Something from an unknown Artist came become an overnight success on TikTok if it's catchy enough. Obviously major label distribution is still unparalleled in terms of exposure. So, I think the biggest challenge for me is just getting my head around a path.
What's upcoming for the project?
I just co-wrote a new song when I was in Cody, Wyoming at Dame's ranch with Nicolette (aka Miss Neek's) which is called "Not Too Late". We filmed a music video and will be releasing the song and music video very soon on BluRoc records. I am continuing to work on the album and legendary Techno producer Massimo Vivona is remixing 'Nothing's Gonna Get You Back'. Also, keep an eye out for upcoming shows that I will be playing with BluRoc records in the USA and potentially UK.