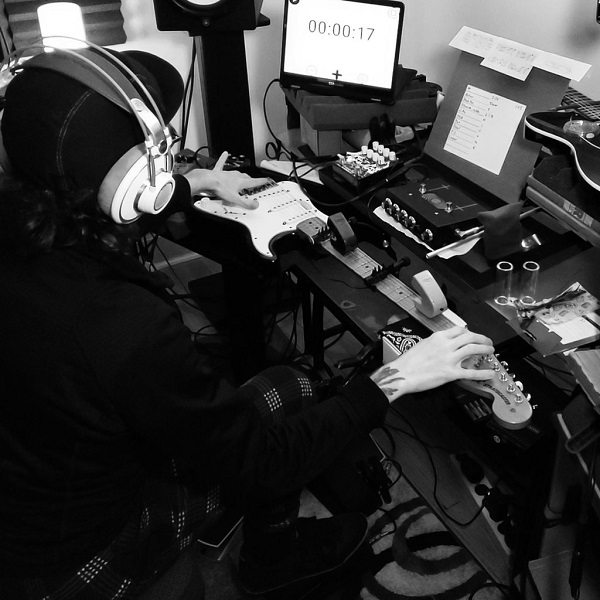 Releasing today, BRDLND is a uniquely resonating album from HANDS HOLDING THE VOID, the Chicago-based project of George J. Fero, Jr.
A versatile sound presents throughout, pursuing an ambient sense of experimentation that ranges from the hectic bird-chirping of "Bird Rhythm II" to the spaciously dark noise of opener "Flight I: Mote." As the project's first fully realized album since forming in 2020, BRDLND is enjoyably idiosyncratic due to its creative concept and stylistic blends, as well as consistently immersive in its undertakings of drone, psych, and dark ambient/noise.
The release exudes a spontaneity throughout that's reflected in its creative process. "BRDLND is a suite of chance-guided, prepared-guitar soundscapes constructed from a score organized along the paths of migratory birds as they intersect with maps of the Earth's magnetic fields," the artist explains. "A true labor of love, I've spent nearly every night and weekend putting this project together for over a year."
There's an eeriness pervasive on several tracks, one that lingers well after listening. "Flight II: The Magnetic Sense" sends chills with its chiming and industrial murkiness, feeling like a wind chill signaling an incoming tornado as it crosses into a prarie. The cinematic, sweeping qualities are difficult to ignore. BRDLND is abundant with successful experimentation that takes listeners into gripping, uniquely impactful soundscapes with fascinating Lynchian developments.
Stream the album:
—
"Flight I: Mote" and other tracks featured this month can be streamed on the updating Obscure Sound's 'Best of October 2022' Spotify playlist.