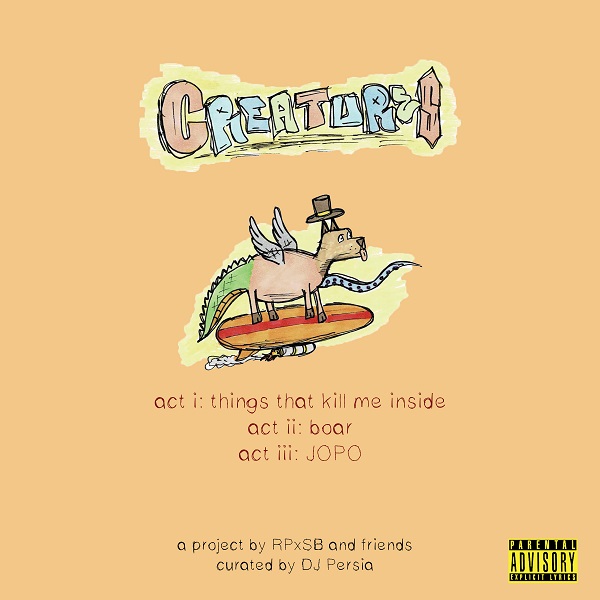 We interview San Francisco-based hip-hop artists RPxSB, whose recently featured three-act 'CREATURES' present a consuming sound with atmospheric beats and thought-provoking lyrical content.
Your three-act release, CREATURES (Acts I-III), captivates in presenting different tones  and moods — from Act I's melancholic side to Act III's intensity. What inspired the decision  to craft three separate releases, instead of pursuing a traditional album or double-album? 
Our creative endeavors are very mood based if that makes sense. So as opposed to having a  particular subject, what you're hearing is very much grounded in feelings of excitement, angst,  sadness, anxiety, etc. from things we all go through in day to day life. With CREATURES, the  entire project developed over the course of various emotions. For example, a lot of Act I was  created when our core friend group was very unstable and people that felt like family members  were starting weren't acting like it. Among other things this developed that melancholy tone.
Act II is kind of the after math of that. A kind of f*ck everybody attitude mixed in with some long  nights and good fun to cope. The final song on there, "The Demon Hour", is the end of said night.
Act III is the come down from everything prior. Where we understand that everything that  happened did in fact happen, however life goes on and the people that are still with us are here  for a reason. Having a background in film we wanted it to play out like story with an event,  result, and conclusion, with the listener being able to gravitate towards whatever mood or tone  they're feeling. 
Our track sweet spot is 7. We feel if you have 7 bangers cover to cover then that project is a hit.  We had 25 tracks total, so with the help of curation by our dj DJ Persia it just made sense to  format CREATURES the way it came to be. 
Roddy Picante and Stay-Bizzy, you have been making music and film together since high  school. How have your tastes in music and film developed since then? 
Neither of us really discriminate when it comes to music. Like the content its all very mood  based. We're very much still rooted in hip hop but I'm sure if you checked our Spotify playlists  you'd find a ton of range, particularly in the Indie genre. Hence the track on Act I "indie  playlists". Toro y Moi, Men I Trust, Yellow Days, and Crumb to name a few. You could even  broaden the scope to Spanish Indie with cats like Kiddie Gang and Telescopios. Or grungy indie  rock like Molchat Doma or Hans Lebanon. The playlist that's the subject of the song is like 530  songs deep no lie. 
Of all the tracks on the release's three acts, is there a particular production or theme you're  most proud or adoring of? 
Probably the most sentimental track on there is "Weather Patterns". It was produced collectively  by Roddy and good friend/frequent collaborator Nomadic for starters. It's also the most heartfelt  and on brand with the tone of Act I: Things That Kill Me Inside. But we had a lot of fun with Act  III: JOPO and those tracks, like "Bad Lemons". The song in particular is a fun sample and more on brand with who we are as individuals. While we do have all the feels and can sad boy it up  with the best of them, our nature is to have a good time and make dope sh*t. 
Do you have any suggestions, music-related or otherwise, for first time visitors to the San Francisco area? 
Take all of your belongings OUT of your cars. The song is called Bip City Blues for a reason. But  I would see who's playing out here whenever you visit. A lot of very dope artist come through and  it's always a solid night to get some good food, catch a show, then step out in the Mission or Marina.  
Do you have a specific process or ritual when creating new music? 
Sometimes do this thing in lyrics where we're talking to somebody. Maybe not an actual person  per sei, but pulling from past, current, and relatable experiences. We find that several people  have a similar "person" like that in their lives who they can relate the content to as well.  
It comes in waves. Ride the wave while it's there. When it's not try not to force it, rather switch  the emphasis into something else. For us its film or drawing or going on a trip. Something to re energize the soul and replenish the content.  
Any favorite artists or albums you're listening to at the moment? 
Been on Amaarae lately. Very vibey. Thee Sacred Souls and Duran Jones also offer a new wave  oldies style that we've been listening to as well. Just discovered Sneaks who also has bad ass  rocker vibe to her too.  
If you could collaborate with any artist, alive or dead, who would it be?
Damn… we're going to have to get back to you on that one haha.  
What do you find is the most satisfying part of being an artist? 
Creating for sure. Whether it's our music or our horror movies or our weird Tales from Vibeland,  the cook up and the execution is the funnest part. Especially doing it with the homies. The  validation that comes after is dope too but we can't really control that. 
What is the biggest challenge you find in today's music industry? 
It's a double edged sword now. The platform is there for anybody, but that also dilutes what's out  there. We base artists off their social media numbers before giving them a shot. It gets  exhausting, and even discouraging when something you've put so much time and energy into  doesn't get heard the way you dreamed it up. That goes back to what you can control. And what  we can control is quality, consistent content.  
What's upcoming for the project?
Keep pushing! CREATURES has been very well received. We have more Tales from Vibeland that  scratch several creative itches for us. We have more shorts planned that always revolve around  the brand. And just so ya'll know we have the next project into mixing and mastering with  Audioporn 2 in developmental stages. Good things are coming and good things are here. Keep  rocking with us and we'll keep having fun.