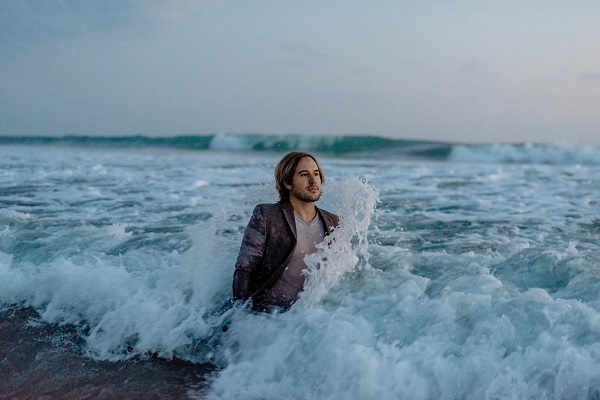 We chat with Los Angeles-based singer/songwriter Zach Churchill, whose new album Greater Than releases on October 28th. His heartfelt music explores topics like addiction and hopelessness, though also with a sense of healing and hope.
Your new album Greater Than releases on October 28th, and the lead single "Surrender" preceded it in July. "Surrender" is intimately captivating, exploring topics like addiction and hopelessness, and also the power of healing and hope. What inspired this particular single?
As a recovering addict, I often talk to people who are trying to get clean but are powerless to do so. I often wonder about the mystery of "hitting bottom", and why some people seem unable to find that bottom. I personally take no credit for my willingness to get sober as it came from the gift of desperation and not wanting to die. Prior to my bottom, I had no intention of ever stopping. So "Surrender" is exploring the idea of powerlessness, and what it takes to actually be done and ready to try something new.
You have described the new album's creative process as "incredibly therapeutic." In what ways do you feel you have grown as a musician, and person, since the start of creating Greater Than?
In my first record, "Heartbreak & Hope", I worked with a mentor of mine, Julian Coryell. It was more a teacher/student relationship. I am so grateful for that experience and I learned invaluable lessons and also grew immensely. Working with producer Tom Rasulo on "Greater Than" was different because Tom and I are peers, we grew up in the same city with the same group of friends, and we ourselves have been friends since college, so it was more of a true collaboration. I had to learn how to take chances, be vulnerable, and trust myself more. I found it incredibly freeing to explore myself through the creative process with Tom.
The album's most recent single, "Reach You," speaks to a sense of loneliness amidst a bright backing organ and melodic guitars. What are some themes or inspirations inherent in that track?
"Reach You" is about escaping the pain of reality by living in fantasy. Finding someone or something completely and totally out of reach, and then convincing yourself that you can make it happen. Setting yourself up for failure. At its deepest level it is about being afraid of true intimacy.
Do you have any suggestions, music-related or otherwise, for first time visitors to the Los Angeles area?
Check out a local show at Harvard and Stone, or Monday Monday at the Hotel Cafe for their songwriter night.
Do you have a specific process or ritual when creating new music?
Nothing too specific. I often come up with song ideas while sitting at my piano or messing around on my guitar, and once a melody or lyrical idea takes shape, I then let the song reveal itself to me on its own time. I don't force it. I usually let it work on me throughout my day/week, adding ideas in my notes and voice memo apps on the go, then edit later.
Any favorite artists or albums you're listening to at the moment?
Well, I just saw Rufus du Sol at the Hollywood Bowl last night so they've been in rotation! Also, Porcupine Tree – albums Deadwing or In Absentia.
If you could collaborate with any artist, alive or dead, who would it be?
David Bowie.
What do you find is the most satisfying part of being an artist?
The experience of losing myself in the creative process and the feeling of freedom that produces.
What is the biggest challenge you find in today's music industry?
How to successfully market and promote music as an indie artist.
What's upcoming for the project?
After the album drops on 10/28, we will be playing an album release show at Harvard and Stone in L.A. on 10/29, then plan on touring in the new year 🙂