Marty Thompson – 'Unwind'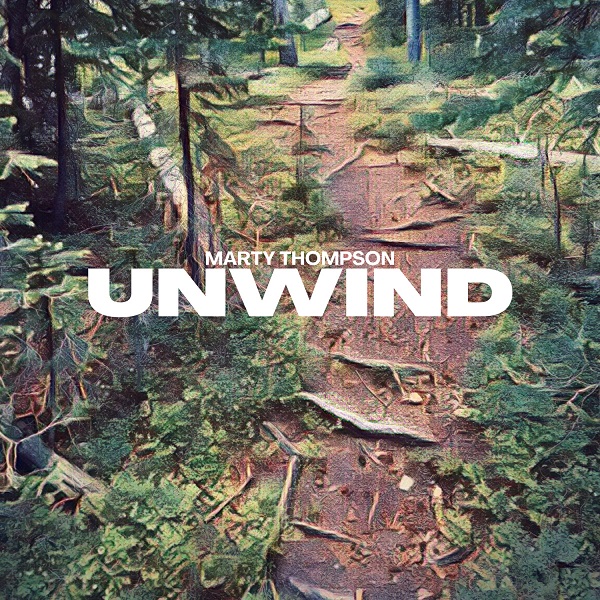 American singer/songwriter Marty Thompson shows well throughout his new album Unwind, compelling with its diverse rock-driven sound. Intimate folk, hypnotic psychedelia, and jam-friendly sessions appear throughout the satiating release, which channels the jam scene of the '90s with Thompson's own enjoyable idiosyncrasies.
The title track opens the album with apt stylistic charisma, weaving playful synths and folk-ready guitars alongside Thompson's emotive vocal presence. The title-referencing chorus soars with twangy guitars and sputtering synths, emitting a bluesy fervency in the subsequent guitar emphasis. This delectable opener does well in touting Thompson's eclectic musicianship with accessible, melodic whimsy.
Thompson's rock-minded pursuits stand out with jam-friendly looseness, particularly evident on the consuming "7:AM Stroll." Therein, quaint guitar tones and a pulsing percussive backing are joined by Thompson's observational vocals — "look at the morning, so much to see." The second-half entries into riveting electric guitar wandering makes for a raw and improvisational-feeling charm. Thompson's creativity is on fully display here and throughout Unwind.
Stream Unwind, below:
Thompson elaborates further on the release:
"Unwind," brings back the jam scene sound of the 90's while keeping it fresh with unconventional studio work using modern quality components and unique instrumentation, all wrapped in a neat concept-album. The LP begins with the title track hailing the call to "walk the path to unwind," and we're off!

We trip through a lyrical 24-hour cycle after sharing a cup of late-night "Ruta Maya Moonshine" and explore night in the Hill Country of Texas under a full moon. 7:AM comes early, and we take a stroll to admire this amazing day…"so much to see…" Morning bleeds into a long and sunny afternoon on a Sunday where we stay for extended jams under intense Sunshine.

Finally, we share sundown with the ones we love in Paradise, before heading off into night once more. The farm cat peeks in on Old John during a sandstorm as he plays his fiddle made of gold, and we all end up at the neighborhood bar for last call from the Bartender. Goodnight! Finally, the LP reprises the title track, reminding us all to UNWIND. Please enjoy this journey of original sound and poetry."
—
"Unwind" and other tracks featured this month can be streamed on the updating Obscure Sound's 'Best of October 2022' Spotify playlist.