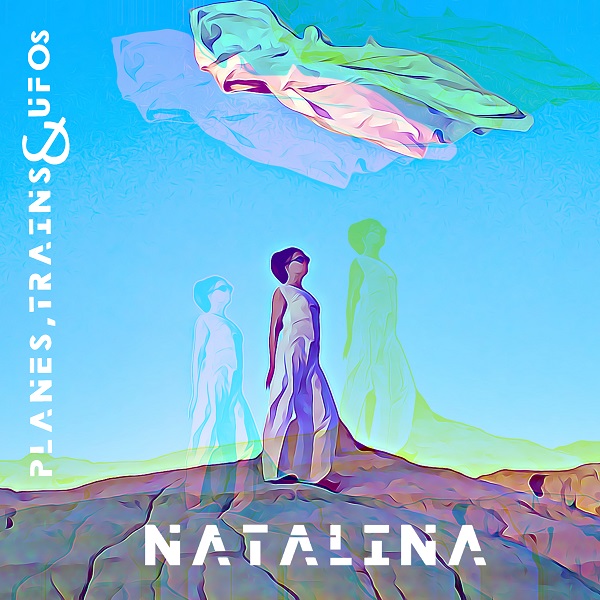 An album full of immersive dreamy mystique, PLANES, TRAINS & UFOs is the latest from Natalina. Idiosyncratic soundscapes build amidst resonating lyrics with philosophical qualities, inspired by the anti-folk works of Regina Spektor. Natalina notes other album inspirations as "Gordi's ambient soundscapes as well as the teachings of Ram Dass, Jose Arguelles, world religions, philosophy and the lore of the American Southwest."
Recorded in Natalina's studio in Taos, New Mexico, the album takes inspiration from topics including inequality, astral travel, time, and entanglement. They explain further:
"This album is inspired by the place in time and space we find ourselves in here. When I first traveled through Colorado and New Mexico, I was delighted by the cow crossing signs. I thought the street department had put little sombreros on the cows to say, Welcome to New Mexico. When I was told the were UFOs, I had questions. Deep in the creative womb throughout the pandemic with the luxury of questioning the world around me I asked… Why are there billionaires? Why are billionaires taking joy rides to space while the climate reports that keep coming out tell me to recycle more and drive less? A full length concept album, PLANES, TRAINS & UFOs takes the listener on a journey through time and space exploring themes of astral projection, quantum entanglement and the human condition."
Throughout the release, Natalina shows an adept prowess at balancing synth-friendly pop hooks and spacious ambient soundscapes. Quaint guitar plucks and a hazy vocal emergence star on "Where's That Train?" — evolving beautifully from its electro-folk beginnings into subtly evolving percussion. In the dreamy and spacious spectrum, "13:11" meshes lush synth pads with emotive lyrical outputs — "wanna hear the stories," — with a creatively dreamy charm, reminiscent of Kate Bush.
"Missing Cows & You" is another standout, whose aforementioned thematic pursuits are bolstered by a passionate vocal delivery and hypnotic percussive pulse. "Quantum Entanglement" also intrigues with its nocturnal synth-pop glow and nocturnal yearning. The album is full of highlights with creative soundscapes and illuminating lyrical prowess.
Stream the album:
—
"Missing Cows & You" and others featured this month can be streamed on the updating Obscure Sound's 'Best of October 2022' Spotify playlist.