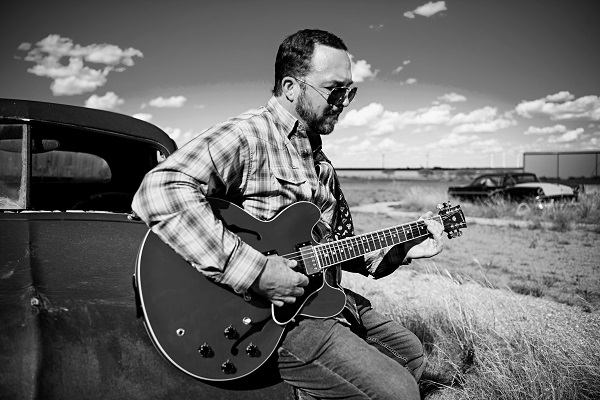 We chat with American singer/songwriter Marty Thompson, whose new album 'Unwind' compels with its diverse rock-driven sound.
I really enjoyed your new album, Unwind, which was released on October 7th. The release conjures nostalgia for the '90s jam scene. During some of the '90s, you worked as a Stage Tech at a local club, The Aardvark, in Fort Worth. How did this job help in developing your future endeavors as a musician?
Thanks!  I was part of that scene, so glad it conjured what I wanted it to… :).  The Hop (later known as The Aardvark) was unreal back in those days – I started as a bar back, helped as bartender, and eventually stage tech.  I saw some unbelievable shows, and met some A+ musicians helping them load gear in/out, test mics and guitars, etc.  Many of the bands wouldn't have but maybe one roadie, so I filled in along with the house Sound Engineer. 
I'd often find myself jamming with random band members during sound checks, etc.  The most memorable event was when then bar owner Jon Davis invited The Aquarium Rescue Unit (in '96, after Col. Bruce Hampton left the band to form Fiji Mariners) to play the same night as Col. Bruce and The Fiji Mariners and DIDN'T TELL either band.  They were so psyched when they found out they were all going to be jamming together.  It was a throwdown jam/party I will never forget – and was the night I met the Col. For the first time, which would eventually change my life & musical path forever.  To the best of my recollection, he told me whilst tuning his guitar:  "Tuners are for cowards.  Be always musically awkward!  To be is to do!" – Col. Bruce Hampton
Unwind is your fifth album. A previous release, Attics, pursued a more acoustic-fronted sound. What prompted you to pursue a more elaborate, jam-friendly production with this one?
Attics was actually a departure from my previous 3 albums – and, Unwind was back to my original jam rock sound…but with a synth-poppy twist.  My first 3 albums are straight forward rock – check out the "M.C. Zebra" off the My Kind of Woman EP for another jam example.  With Unwind I wanted to weave the 90's scene sounds into a modern soundscape and use modern recording techniques.  Jam-friendly is where I feel most comfortable. 
Attics was recorded in the attic of an old lake house while quarantining during the first weeks of COVID March 2020 and used a portable recording setup with high quality mics, a couple of high-quality acoustics, and then used whatever I could find in the attic for percussion (wood blocks, nails in a can, etc.).  I dubbed the Gibson Thunderbird in later in my studio before release 1-22-21 (a palindrome).  The song 'Palindrome' off that album is about the COVID pandemic.
"Sunday / Sunshine" is a 10-minute epic that thoroughly captivates with its guitar work and dynamic song structure. What's the meaning/inspiration behind the track?
Ha!  Great question.  So, it has a long history – I wrote it in 1996 on a Sunday afternoon in Trinity Park in Ft. Worth, TX.  I was by myself with my acoustic.  The Aardvark (club mentioned in Q/A above) had a drop in show every Sunday for songwriters.  I had only been playing/writing for 2 years, so it was a big deal for me to build up a setlist I could perform on Sunday.  Eventually I did the Sunday gig – I remember the Fox Bros. were there (famous now for their killer Atlanta BBQ!).  The set was a success, and I was hooked. 
The song became an anthem of perseverance for me, and I hope all who listen hopefully find it their own anthem of perseverance regardless of their own backstory.  The 'Sunshine' jam originated as a tack-on jam to the end in a band I was part of in Murfreesboro with a bunch of other RIM students there.  The band was called Stormwatch and had modest regional success from '98-'00.  The bassist, Sam Holt, went on to be guitar tech for Widespread Panic and eventually led his own band, Outformation.  Our Sound Engineer was Chris Rabold, who also went to work as Widespread Panic's FOH Engineer, then Lady Gaga, now Bruno Mars.
What's your favorite venue to perform at?
Main Street, Murfreesboro, TN
Do you have a specific process or ritual when creating new music?
No – I don't force it is the #1 rule, and it can always be different.  Often, if I want to create a full song on purpose, I might toy with an unusual instrument or something which can yield ideas.  However, I am a poet first and always have been.  The words come first, then I form song in my mind (usually in the shower).  Then, I go to a guitar or piano and figure out what key the song is in and go from there…
Any favorite artists or albums you're listening to at the moment?
Right now I am really into Gov't Mule's newish LP, Heavy Load Blues.  Also, I love The Budos Band and Band of Horses.
If you could collaborate with any artist, alive or dead, who would it be?
I must give one of each…. Dead, Jerry Garcia.  Alive, Warren Haynes.
What do you find is the most satisfying part of being an artist?
The release / reaction of the listeners and radio stations.  I have written over 250 songs, so it's always a mystery to me "what songs should I record" or "what song should be my single" or "what video should I cut."  I love setting a release loose onto the world and seeing what the world likes best.  I am surprised / guess incorrectly 90% of the time.  That makes me want to keep trying new things and make new art.
What is the biggest challenge you find in today's music industry?
Dilution.  I worked on music row for ASCAP in Nashville from '99-'00.  Then, it was CD's – still a hard, tangible medium which made more $.  However, it was also hard as "F" to EVER make it musically because you had to get signed by a label, and in order to do that you basically had to be family of somebody.  So, in a way it is better today as an independent artist because you don't need a label anymore.  However, the intangible world of streams (and the cheap-ass per-spin rates songwriters receive) multiplied by the thousands of talented musicians and artists that have ALWAYS EXISTED but now have a way to get heard….   Dilution.  Competition.   Etc.  You MUST stand out somehow – have some sort of edge.
What's upcoming for the project?
About to start Live streaming again (I do a multi-track on-the-fly live show on Instagram…and planning some shows in the spring on Twitch) to keep promoting Unwind for a little while – then two songs from the LP are being considered for International Songwriter of the Year – which happens in February.  I have also been recording a modern Jazz/House LP with a bunch of old musician friends via long distance studio work.   I send them rhythm tracks I have come up with and then they lay something down.  Then, they send back the track to me, and I mix it in with other instrument/musician tracks.  None of the musicians know what the others are recording and will not hear them until I finalize the mystery mixes.  It is a non-typical release and may even be released under a different band name.