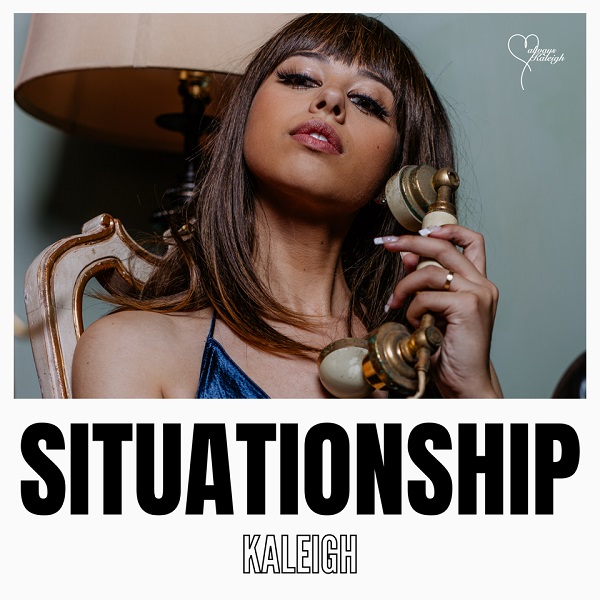 Its themes emphasized by the lyrical remark "situationships suck," "Situationship" is a passionate new single from Los Angeles-based artist Kaleigh. The heavy rocker compels with its feelings of frustration and emotion, lamenting the plight of being stuck in-between feelings of friendship and love.
Kaleigh, who is also an actress and model, delivers an invigorating vocal performance throughout, with roaring guitars emerging in the second half with bluesy fervency. The ceaseless rhythm section and industrial-leaning guitar tones craft an infectious energy and ferocity, straddling lament and self-empowerment in serving as a "therapeutic, anger-release" that's stellar melodically and in its passionate delivery.
Kaleigh elaborates on the single's themes:
"Have you ever been in less than a relationship, but more than a friendship with someone? Well, me too. Situationship is about being frustrated as you are stuck in the in-between with someone you've come to care about. Too often these days, people are quick to trade a good thing for a good time. Others are so damaged by their traumatic pasts that they keep themselves from truly moving forward or falling in love once again. Situationship is a therapeutic, anger-release of all that pent up emotion that we hold back to keep from scaring someone off. Let's let it go together."

"The negative effects of casual dating and the widely accepted 'situationship' are felt equally by the Millennial, Zillennial, and Gen Z populations. This song highlights one's ability to reclaim their power and decide that this type of lifestyle simply isn't the right fit. The rock genre has always been about stepping outside of societal expectations and generational norms, Situationship is about doing the unexpected in an era of instant gratification and emotional unavailability — reverting to the old-fashioned, slow-burn kind of love."
—
This and other tracks featured this month can be streamed on the updating Obscure Sound's 'Best of November 2022' Spotify playlist.