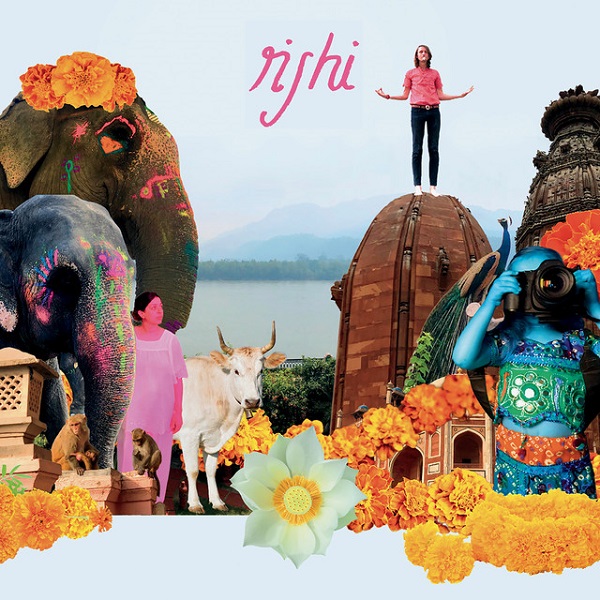 Luke Sweeney's Rishi is a riveting album that explores tragedy in the context of self-discovery and creative pop songwriting. The San Francisco-based artist delivers a psych-infused, bouncy pop sound with poetic lyrical prowess. Rishi takes its namesake from Sweeney's infant daughter, who unexpectedly passed away in 2018. Its "humble collection of songs" was written mostly in India, where Sweeney and his family made a return trip to bring Rishi's ashes to the Ganges.
The album resonates with a powerful sense of enduring love. An initial trip to India exposed Sweeney to the country's beautiful musical presence, even as he didn't pack an instrument or dabble in songwriting. For Sweeney, personal tragedy flashed back these musical memories of India, and its resulting songwriting for Rishi began, with the title track and "Letter to Rishikesh" taking form and the rest flowing from there.
As Sweeney explains of the album, it "has me still searching, still hurting, but fully convinced of the cosmic connection and deeper purpose that I share not only with my daughter, but with every energetic being… as we all flutter like moths to the flame on this plane."
The album's title track conveys Rishi's enduring influence amidst playful, warming synths and a mellow bass line. Sweeney's hypnotic vocal presence leads the quaintly melodic introduction. "Got a taste of the mystic," Sweeney sings with adoration alongside prickly synth adornments, the reference to love and fatherhood resonating. Additional backing vocal reflections embrace throughout the track's mid-point; the harmonizing plays with a haunting allure into the subsequent key-laden additions.
Elsewhere, "Indian Radio Values" reveals a more understated, atmospheric yearning with delectably sharp tonal contrasts between verses and chorus. "What am I supposed to do, baby, what am I supposed to say?" Sweeney asks amidst bouncy synths that gradually escalate. "I don't speak your language, your love's so far away." The yearning is palpable. Frolicking, island-set guitar tones and balmier synths entrance during the hooky mid-point shift, falling gracefully into the verses' comparatively lethargic engrossment thereafter.
"Princess of the Pearl Palace" also captivates in its child-like enthusiasm and sense of adoration, written by Sweeney after "carrying my 5-year-old child on my shoulders through the hot, humid streets of Jaipur back to our hotel." Following a gorgeous piano-fronted introduction, bouncier piano adornments shift seamlessly into a synth-friendly warble, playing engagingly alongside Sweeney's laid-back retellings. "Princess of the Pearl Palace, all the folks will turn to see," he sings invitingly during the resonating chorus.
The comforting, friendship-centric bounce of "Animal Room" also plays with an amiable charm. Brassy adornments and laid-back vocals form a catchy delight, bridging up two of the aforementioned tracks with a lighthearted airiness. "Tangled Harmonies" is another brass-tinged piece of suaveness, recalling a more laid-back Madness. These pop delights succeed, as do the emotive powerhouses like the closing "Letter to Rishikesh," its frolicking woodwinds culminating in an affirming final line that promises never to forget: "But my spirit will stay, right here in this place called Rishikesh."
The album's construction took place in a San Francisco apartment studio with longtime collaborators Joe Santarpia (Mac DeMarco) and Roberto Pagano (Tonsstartssbandht) — and features musical contributions from some of Sweeney's bandmates in Healing Potpourri.
Stream Rishi:
—
"Animal Room" and other tracks featured this month can be streamed on the updating Obscure Sound's 'Best of November 2022' Spotify playlist.