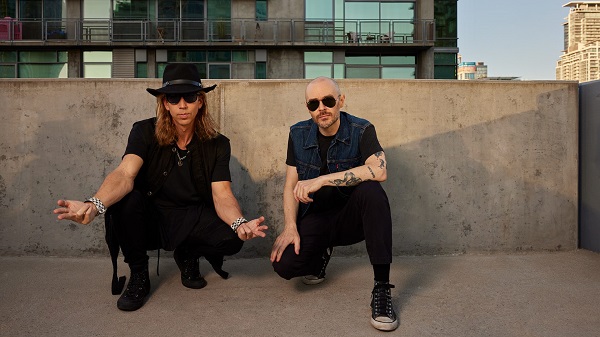 We chat with Los Angeles-based artist Indiana Bradley, whose recently featured track "Rats on Cocaine" concocts a nostalgic power-pop and punk vigor in its exploration of L.A.'s temptations.
Your exhilarating new single "Rats on Cocaine" was written as a commentary on Los Angeles and its certain indulgences. What inspired the track's thematic direction?
Having been here for almost 6 years I realized there's a certain amplification of human vice and hedonism in Los Angeles unlike any place on Earth. I am no stranger to participation in all of it. It's like a runaway locomotive that one can hop on and hop off of but many never complete the latter step. "Rats on Cocaine" is about that neurotic social storm that can sweep someone up in a relentless grip of darkness in L.A.
Although the song is certainly inspired by and references the title drug, it is also a metaphor for the social media influencer or content creator culture, itself an addictive and deranged void of excess described with the line "the mirror gives no justice now you're driven insane". The mirror being our smart phones. In other words, like the effects of over indulgence in cocaine, you just need a few more followers, a few more likes, a few more posts, a few more hits to be fulfilled in the most warped try for happiness. The protagonist of Rats on Cocaine hears voices offering a warning to escape immediately. "Leave at once" while the soul is still intact.
You've worked as a journalist in multiple countries. How has that helped to bring about the project's unique brand of storytelling? Have you covered any other country's music scenes as a journalist?
I've been traveling and exploring foreign countries virtually my entire adult life and I am fluent in Spanish. This opened the door to a job as a journalist which was coupled with marketing foreign governments. It contributed in an abstract yet extraordinarily important way to my art. I covered world and business leaders in countries we in the West don't normally hear much about unless something terrible is happening there. (Ukraine, Angola, Kenya, Indonesia, South Africa, Malaysia, Turkey, etc)
The work was intense and I lived in all of these places and conducted hundreds of interviews with influential leaders in those countries. Doing this for 6 years had an unavoidably unique impact on my intellect, spirit, worldview, life experience, and temperament. I'd argue those are the most important ingredients to creating compelling art along with authenticity.
While most of my songs are not specifically about a country experience ("Fidel Castro" being the exception as I attended his funeral in Cuba), the source of music or art in general can often be a mysterious well, not visible to even the artist. I believe my artistic muse, like any artist's, has been molded and inspired by the life I've led. It's fed the beast so to speak so I have something to draw on.
How did your collaboration with AFI bassist Hunter Burgan, for your Pale City EP, arise?
My collaboration with Hunter Burgan from A.F.I. came from the release of my single "Under the Night" off my debut LP Ghost Star. The influential music blog here, BuzzbandsLA, debuted the video and Hunter's manager saw it while they were scouting projects for him. They reached out to me and I was obviously very interested as that was just the second tune I had ever put out in my life. It was exciting to have a rock veteran and producer of his caliber inquire about working with me. A.F.I. has had a very impressive and long-standing run in the rock industry and Hunter has been with them for basically all of it as the bass player and he's also produced for them.
We met up for the first time at a coffee shop in Highland Park to get to work on some rough outlines of a 4 track EP. There were some delays due to Covid, but we got cracking on recording in early 2022 with the EP "Pale City" releasing end of 2022 and early 2023.
It's been a fantastic experience as we really dug deep into the minutiae and nuances of every song from vocal effects to album artwork. Even recently we exchanged late nights texts about album artwork decisions in the middle of his coast to coast A.F.I. tour. You couldn't ask for more from a producer.
His fingerprints are all over the EP including song structure, arrangements, playing all of the guitar parts and bass and mixing the whole project. He did a brilliant job taking my demos and re-arranging the flow of the songs like a puzzle while keeping the core vibe and melodies intact beautifully. He's also been consulting on my music videos especially the latest release "Animals". We're discussing plans for a music video for the next single "Pale City Girl".
What's your favorite venue to perform at?
Some might find this unusual but I'd have to say it's the infamous and famous Rainbow Bar & Grill on the sunset strip. It really isn't a traditional LA music venue. We set up with amps on the second floor of the bar with no stage or gallery really for people. It's very much a basement house party type of feeling. What I like about it, however, is the mix of people and new fans you get to reach there. Of course, it draws rock fans, but there are also many people who are really out to just have a great time. They want to party, they want to dance, and they want to be entertained.
That's what I want to do with my music. I want to punch you in the mouth (figuratively!) and dare them to NOT listen to me while I perform and get them rocking. At the Rainbow you can REALLY explore that, quite literally, face to face with people maneuvering around the second floor which has the feel of a pirate ship's forecastle. We get our best reactions there.
Do you have a specific process or ritual when creating new music?
That's something I think I could improve upon. I'd like to write more but I'm the type of personality that likes to see one task completely finished before I even think about the next task. In other words, it's hard for me to write or focus on new music when I'm still in the process of mixing the 6 song follow up EP to "Pale City" which will release early 2023.
When I am writing, it all starts with the piano. I've been playing piano since I was about 10 years old so I have licks and melodies racked up from even my teenage years. For example, the main verse melody of Rats on Cocaine is in fact 20 years old!
When I'm at the piano to write, first I decide what kind of song I am going for i.e. fast or slow. Then I'm essentially doodling on piano until I carve out verse melodies and then a chorus. As I play I may simultaneously be singing lines or thinking of lyrics in my head that can match the cadence of the keys and jot them down. It builds from there with a bridge inserted if I feel it's necessary.
When I'm rolling I immediately fire up Garageband and start recording the piano parts as the foundation of the song usually over a drum loop which acts as a place holder. Then I can experiment with different MIDI electric guitar sounds and layer in other instrumentation such as bass, organs, synth, acoustic guitars etc. I play all the parts using my keyboard. Then the fun part comes in: scratch vocals. Once I'm happy with the demo I send it off to the producer so they can add their expertise to the pie. I've been lucky to work with Seth Olansky on my first record and an additional EP mixing now as well as Hunter Burgan on "Pale City".
Any favorite artists or albums you're listening to at the moment?
Jane's Addiction (the original incarnation) is my favorite band of all time and their first album, self-titled, is in fact my favorite rock n roll album of all time (Fugazi's In on the Kill Taker is a close second). I'm also a big fan of current bands like the National, Lord Huron, and Phosphorescent. I've been scoping out the new White Buffalo album "Year of the Dark Horse" recently. I'm also digging these guys from San Francisco called Wooden Shjips. I'm not sure how active they are now but they have some grooves off their album  V. and Back to the Land. 
If you could collaborate with any artist, alive or dead, who would it be?
Wow, tough one. I think I'll go with alive so maybe he'll see this and reach out ha! In line with my last answer I'll stick with Perry Farrell. He's still ripping it on tours and running Lollapalooza. In his prime in the late 80s and 90s, I've just never seen or heard anything like him musically, energy-wise, style-wise etc. His contributions to rock music and culture are wildly underrated in my view even though he's pretty famous.
What do you find is the most satisfying part of being an artist?
I think the full completion of an idea from start to finish is the most satisfying. I mean really doing it and completing it in a professional sounding manner to the best of your capability so when release day hits you can take a moment and geek out on your project. An honorable mention goes to working with killer musicians and producers. That's pretty awesome for a guy who had never sung or been in a band until moving to LA. The fact talented cats are down to collaborate and play or sing with you is rewarding and then seeing their approach to your arrangements is very cool to watch.
What is the biggest challenge you find in today's music industry?
Great question as there are SO many challenges from time to finances to marketing your music. It depends on your goals. I want to get my music to as many people as humanly possible and hopefully inspire feeling in them and/or simply entertain them in a memorable way. Reaching the people is the biggest challenge. There's just a ton of gatekeepers every step of the way in this industry and noise you must rise above. Of course, you need compelling material as a rock artist, but if you believe in it, then spreading your art to the masses is quite a challenging journey with no road map.
What's upcoming for the project?
I have two more tracks to release on the Burgan produced EP. The next track will be "Pale City Girl" and the last track is called "C.I.A." which will be packaged with the complete EP drop in January.
Immediately after, I have 6 more songs produced by Seth Olansky (Ghost Star producer) that I'm very excited about. They're in the mixing stages now and near completion for mastering. I haven't named that EP yet but it will be in line with "Pale City" in terms of musical style.