Posted
December 23, 2022 by Mike Mineo
in Features
Interview with Patty & The Oh's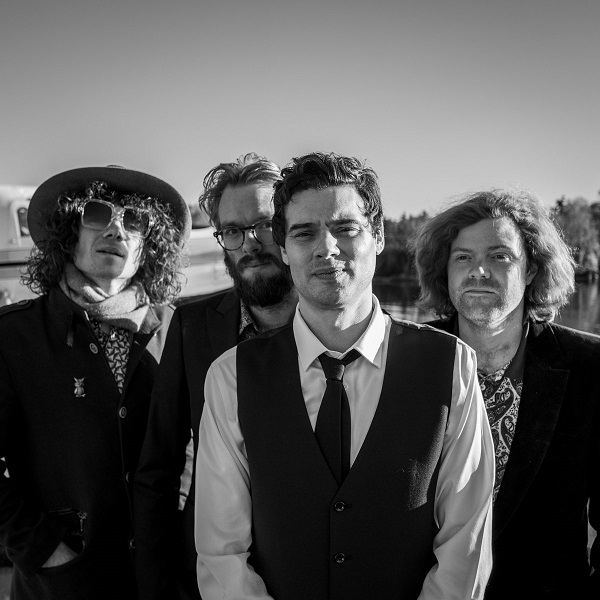 We interview Patty & The Oh's, whose latest track "Useless Love" touts a jangly, melodic charm with a captivating Stylophone part. They will be releasing an upcoming album, 'Out of Everything.'
Your new track "Useless Love" is a jangly delight. Taylor Carroll's Stylophone adds a wonderfully melodic component. What's the central lyrical theme behind the track?
Thanks!
I can't say enough about what Taylor brought to the songs as producer. "Useless Love" is a great example of it though.
The song was structurally intact going into the studio, but it was Taylor's idea for me to record with the 12-string, which does help it jingle and jangle nicely. And as you mentioned, he wrote and recorded that Stylophone part that offers such a great counterbalance to the vocals.
During the first session, my wife Ashley pulled down the Stylophone from a shelf at the back of the studio, and we spent some time talking with Taylor about the history of the Stylophone dating back to the late 60s. So naturally after that, the instrument had to find its way onto the album. It's also a small nod to David Bowie, who I think in a way originated using the Stylophone in a rock and roll song?
Thematically, I'd say "Useless Love" started out in the realm of "Your Cheatin' Heart" by Hank Williams Sr., and then evolved based on my own experience with love and heartbreak. The lyrics themselves are fairly simple at face value, but emotionally—from line to line—I think there's tonal complexity. 
To answer your question more directly, though, the central theme is probably that moment when the feeling of heartbreak changes from utter despair into an honest acceptance that you can't control love.
The upcoming album's songs were recorded and produced in Seattle. What was the recording process for the album like? Was it a lengthy process, or more quick and spontaneous?
Yes, we made the album at Bear Creek Studio, which is just north of Seattle in Woodinville, WA.
Although I grew up in the South, the rest of the band is originally from Seattle, including Ashley, who actually grew up down the street from Bear Creek. So the studio had been on my radar for a while due to her connection to that exact corner of the Seattle area.
Then, last year, Ashley lost her mother to suicide, and the family property down the street from Bear Creek Studio ended up being sold before Ashley or her family could fully grieve their losses. When I finished writing these songs this year, I decided to reach out to Bear Creek because I thought it could be a way to reclaim Ashley's home in a different sense, by recording this album down the street, in the woods she grew up roaming around in.
The process of recording itself was kind of a sweet spot between being lengthy and quick, which means there's elements of both on the record—moments of spontaneity as well as moments that are more deliberately thought-out. 
Ashley caught Covid the week we were supposed go into the studio, so we had to reschedule our first planned sessions. Then, it just so happened that our cat died the day we were supposed to have gone in to begin recording the album. 
But we recovered and made it in shortly after that, and if I remember correctly—don't quote me on this, though—the first thing that was recorded was the drum machine William added on New Flavor of Gum.
Then we just took it one or two songs at a time. Dune is not only responsible for bass on the album, but also for lead guitar and most of the synthesizers, so the songs came together organically in stages during the recording process. 
I knew when I was writing the album that each song represented a different era—both in my own life and of the musical influences I draw from. But it was Taylor's vision to establish a clear direction for each individual song that allowed us to record them in that spontaneous but deliberate way I mentioned earlier.
Is there a particular track or thematic emphasis on your upcoming album, Out of Everything, that you're very excited to share?
I'm just excited for listeners to hear the full scope of the album.
I hope the songs call to mind a range of rock and roll and pop rock influences for listeners—and maybe it'll even give a few listeners something to think about.
To that end, listeners can gather a lot about the thematic content from song titles like "Societal Collapse Doo Wop," "Executionland," and "Rabbit Hole of the Absurd." 
This album doesn't shy away from confronting real problems we collectively face as a society, but we hope the music also has a quality that transcends the doom and gloom, connects people together, and makes people feel good.
What's your favorite venue to perform at?
The Stone Church in Newmarket, NH.
If you go to the very top of the only hill in downtown Newmarket, overlooking the Lamprey River, there's an old stone meeting house from the 1830s that's been converted into a music venue. There's a small stage that hardly separates the band from the audience, and I've met some really fun and thoughtful music lovers in New Hampshire who's tastes range widely. And the vibe playing at the Stone Church is real and genuine, with lots of dancing.
Do you have a specific process or ritual when creating new music?
I've found that I best write songs when I'm actively putting off something really important that I absolutely should be doing instead.
Any favorite artists or albums you're listening to at the moment?
Right now I can't stop listening to the song "One Fine Day" by David Byrne and Brian Eno. And I've been obsessed with The Who song "Squeeze Box" for a while now. 
As we're chatting, it's December, so The Beach Boys "Merry Christmas, Baby" is playing on vinyl.
My favorites are the old greats—Bob Dylan, Lou Reed, Johnny Cash, Stevie Wonder, Nirvana.
I tell everyone I meet that my favorite album is Highway 61 Revisited by Bob Dylan, so I might as well tell that to y'all, too. 
And my other all-time favorite albums are—America Eats Its Young by Funkadelic, Plastic Ono Band by John Lennon, London Calling by The Clash, and New Sensations by Lou Reed. 
If you could collaborate with any artist, alive or dead, who would it be?
Alive: jokermen Tim Robinson or Eric André. 
Dead: George Harrison.
What do you find is the most satisfying part of being an artist?
When a hard-to-pin-down thought or feeling finds its musical/poetic form. 
And subsequently—once a song is written and again during production and recording—the feeling that a song is actually expressing those real, complex thoughts or feelings that served as the impetus for wanting to write the song in the first place.
What is the biggest challenge you find in today's music industry?
Like all industries, it matters less the quality of the work you're doing and the art you're making, and what matters more is who you know. That's not an indictment against the people who are helping out people they know. But, it makes it really hard for people who don't yet know anybody but are making good music.
One reason we're psyched to be doing this interview is because Obscure Sound is one of the few outlets that confronts this reality, by actually seeking out good music and connecting artists and listeners who might relate to each other. We also love the range of music you introduce to the world.
What's upcoming for the project?
You can look out for our next single, "Heard Some Kinda Light," which will be released on January 31, and the full album—Out of Everything—is out March 3!