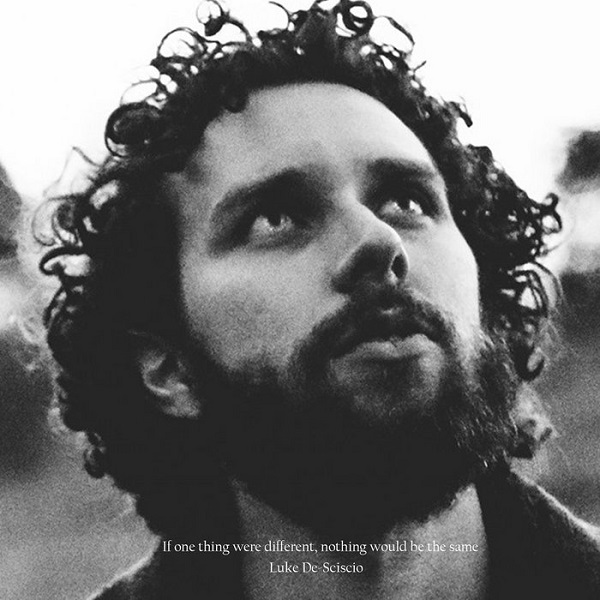 UK artist Luke De-Sciscio's songwriting emits a haunting, soulful quality throughout his eleventh full-length album, If one thing were different, nothing would be the same. One of its many highlights, "I Had A Boat" enthralls with a dark folk sound. Creeping vocals and ghostly guitars, fit for open desert sprawls, make for a cinematic-feeling introduction. Whimpering effects linger alongside the steady acoustical pulse and electric twangs.
Multiple layers of expressive vocals follow with spine-tingling qualities, exuding a falsetto and quivering emotion that stirs; I'm fondly reminded of the band Wild Beasts, and their infusion of falsetto with atmospheric guitar tones. "I had a boat, but it's gone," the vocals repeat as the conclusion approaches; the sense of lament and yearning consumes thoroughly on this soul-stirring production.
Exemplary of the album's scope and riveting production, "The Tourist" is an epic conclusion to this memorable record. "It, I believe, frames the entire record – and in fact, my whole career," De-Sciscio says. "This is who I am. This is what I've been trying to say. This is why I was put here."
The illuminated piano tones and passionate vocal unveiling play climactically to a sense of catharsis — "get up! get out! go outside!" — as the vocals resonate with sky-soaring beauty. The second half is gorgeous, with illustrious strings and operatic vocal feelings casting an indelible spell of atmospheric captivation. These are two tracks that exemplify what to anticipate from De-Sciscio's latest album — namely, songwriting that leaves an enduring mark and production that ravishes with orchestral-laden folk sentiments.
Stream these tracks and the album, below:
—
"I Had A Boat," "The Tourist," and other tracks featured this month can be streamed on the updating Obscure Sound's 'Best of December 2022' Spotify playlist.