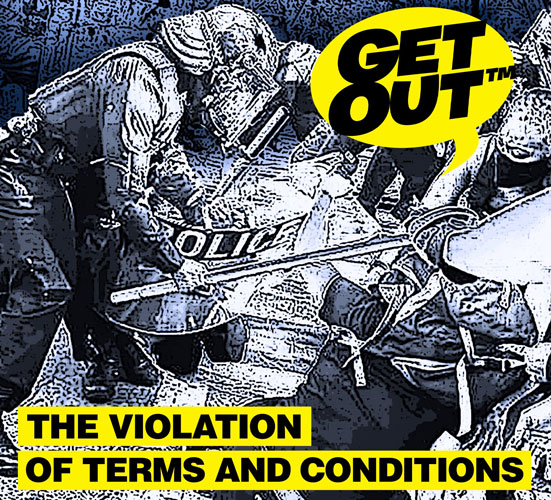 The Violation of Terms and Conditions is a blast of an album from Los Angeles-based band Get Out. Since their debut album in 2001, the band has sold out crowds at various venues, also opening for acts like Streetlight Manifesto, Voodoo Glowskulls, and Suburban Legends. The Violation of Terms and Conditions represents their eighth album, showing the act as re-energized with hooky songwriting and ample personality.
An intense, punk-forward tempo persists through much of the album. "The Right is Wrong" meshes punk and metal-feeling distortion in the chorus, driving to a more glistening chorus with poppy allure — enjoyably showcasing the band's knack for eclectic tonal shifts. Also impressing, the opening "6 Feet Apart" drives to a raucously invigorating chorus, where impassioned vocals and dexterous guitar lines assemble alongside militant vocal additions.
"Florida Woman" is further indication of the band's talent for crafting amusing narratives with colorful characters. The track's energized guitar work oozes '90s nostalgia, gearing into a pop-punk vocal lead following the initially glistening story-setup. "She looks much better in the dark, she sleeps around the trailer park," the vocals let out as the guitars accelerate. This tale of an unexpected love story plays with captivating qualities, from the amusing lyrical prowess to the irresistibly hooky guitar jumps.
—
"Florida Woman" and other tracks featured this month can be streamed on the updating Obscure Sound's 'Best of January 2023' Spotify playlist.